Garden Clubs and Societies
By Lynette L. Walther

Hostas. Photo: Lynette L. Walther
Most of us know someone who has been won over by one variety of plant or another—a gardener who simply must have the latest daylily or rose hybrid or clematis or orchid or hosta. The list is as long as there are varieties of plants, and grows daily as new ones are discovered or hybridized or heirloom varieties are re-discovered. If you recognize yourself in this description, then maybe it is time for you to join a plant society. There are plenty of reasons, and benefits to joining one: • Access to plant breeders not widely known in general commerce and local nurseries • Chances to meet notable horticulturalists who are involved in hybridizing and research • Subscription to the society's publication(s) • The satisfaction of becoming expert in a single genus • Opportunities to purchase specialty publications about the genus • Exposure to horticulturalists in other towns, states, and even countries • Opportunities to attend judging school and become an accredited plant judge • Chances to attend annual meetings and conventions and immerse yourself in a single genus • Meeting people with common interests and touring their gardens • Opportunities to attend regional meetings and meet people in your area with similar interests • Plant or bulb exchanges • Chances to exhibit your flowers in local, regional and national shows • Opportunities to participate in local, regional and national projects • Hear speakers and see presentations about gardening • Opportunities to support new hybrids and research through paying dues or making additional donations Some plant organizations, such as the International Waterlily and Water Gardening Society, have members from many countries (20 in this particular case, with organized chapters in Thailand and Germany), that include growers, retailers, hybridizers, botanical gardens and college professionals, hobbyists with wide-ranging experiences and manufacturers of water garden products. For more information on the society, visit the group's web site:
www.iwgs.org
or call 941-756-0880.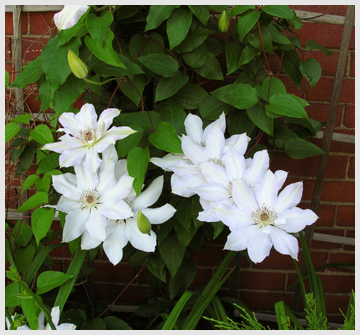 Clematis. Photo: Lynette L. Walther
CLEMATIS Plant societies are focused on promoting the uses of their particular plants, and none are more dedicated than the American Clematis Society. Among the aims of this society is the desire to make the clematis "as recognizable as the rose." Indeed, "Clematis Queen" and society president and founder Edith Malek's book
Simply Clematis: Clematis Made Simple
was written for both the beginner as well as the seasoned pro. If the gorgeous full-color photos of some 150 varieties of garden-worthy clematis don't get you, then the book's sensible propagation instructions should lure you into trying this climbing wonder. For information on the American Clematis Society: P.O. Box 17085, Irvine, CA 92623-7085. HIBISCUS If hibiscus make you happy, seek out the American Hibiscus Society at 4231 Shamrock Drive, Venice, FL 34293, or visit their web site:
www.americanhibiscus.org
. In the meantime, look for Barbara Perry Lawton's informative book,
Hibiscus: Hardy and Tropical Plants for the Garden.
Hardy Hibiscus can bring that tropical look to your Zone 5 garden with easy-to-grow plants that not only survive our weather, but thrive on it. Plants such as the newly-developed
Hibiscus syriancus
Lil'Kim® a miniature Rose of Sharon are appealing. Lawton's book (from Timber Press) is a valuable reference of fact and folklore on both the tropical and hardy varieties. PEONIES The American Peony Society maintains a seed-distribution program; for a nominal fee members can request seeds. For information: American Peony Society at 713 White Oak Lane, Gladstone MO 64116-4607. 816-459-9386;
www.americanpeonysociety.org
. There are national, and in some cases local plant society chapters, for those smitten with plants of all sorts. Finding a society for your pet plant could be just a key stroke away. Susan Jellinek, a horticulturist with Thompson & Morgan Seedsmen, Inc., suggests going to the Internet and typing "plant societies" as a search term at
www.google.com
. "I got 10 pages of sites that link to plant societies," she said. "There may be a comprehensive site among those if you look through them. There is a book called
The Home Gardener's Source
by Solomon M. Skolnick that lists horticultural societies," she added, "but they don't list web addresses, only mail and phone, but my version is from 1997. Another book,
Gardening by Mail
by Barbara J. Barton has similar lists." Happy hunting.

Contributing Garden Editor Lynette L. Walther is the recipient of the National Garden Bureau's Exemplary Journalism Award and the IABC Silver Quill Award of Excellence. She is a member of the Garden Writers Association. She gardens in Camden.
Share this article:
Digital Edition Available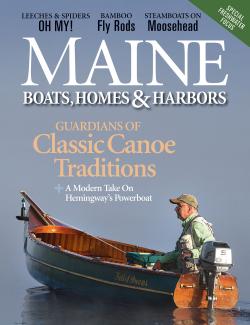 Can't get to the store to buy your magazine? We deliver the stories of Maine's coast right to your inbox. Sign up here for a digital edition.