Photo Feature - Turtle Gallery
25 Years of Regional Art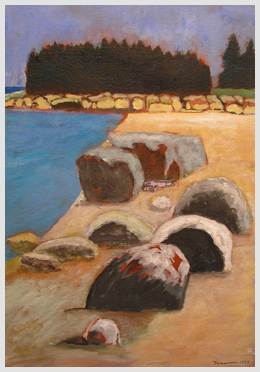 Howard Fussiner,
A Beach, Maine
Acrylic on paper
To celebrate the 25th anniversary of the Turtle Gallery in Deer Isle, founding owner Elena Kubler organized a series of summer shows that included a broad range of pieces by established artists whose work has been shown at the gallery since the start. "So many wonderful artists have exhibited at the Turtle over the years," Kubler said. "A number of them are no longer alive, but fortunately, their work survives!" In addition, new works by artists who are new to the Turtle were presented over the course of the summer season. Among the special events scheduled to celebrate the gallery's anniversary was a talk by
Maine Boats, Homes & Harbors
Contributing Editor and author Carl Little. He spoke, answered questions, and read from his own work. According to Kubler, the Turtle gallery was established in 1982 in Deer Isle, Maine, to show and sell paintings, limited-edition artist-made prints, photographs, and sculpture by regional artists. Over time the gallery began to include work in numerous craft media. Many artists from the region work in different materials, and have developed separate styles for different bodies of work. The Turtle Gallery has also welcomed artists from beyond the region and takes pride in being able to show high-quality work in many media. The gallery's current collection includes paintings, print media, photography, book arts, jewelry, and works in glass, fiber, clay, and wood. Fine art and contemporary craft are displayed in an 1876 two-story Barn Gallery, Works on Paper Gallery, and Sculpture Court. In recent years new smaller galleries have been added to include small one-person and group shows by as many as five artists at a time.
Roll over numbers to view thumbnails
Opening receptions take place on the first Sunday of a scheduled exhibit at 2:00 p.m. The summer season runs from the end of May through October. Gallery hours: Monday-Friday, 10 a.m.- 5:30 p.m., Sunday, 2:00 p.m –6:00 p.m. Appointments for sales, consultation, and collection advice are available year-round: 207-348-9977. More information and a full schedule of shows and artist talks: Turtle Gallery, P.O. Box 219, Deer Isle, ME 04627. Located on Route 15 (61 North Deer Isle Road). Map available at www.turtlegallery.com.