Movies with a Nautical Theme
A few of the best compiled by Peter Spectre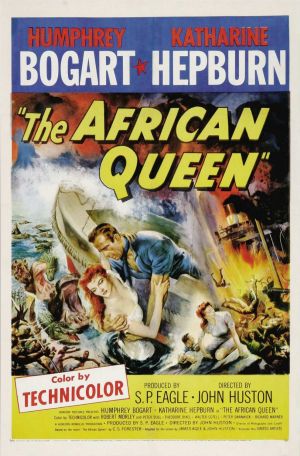 The original African Queen movie poster.
Image copyright CBS Broadcasting, Inc.
Here are a few of the best
Abbott & Costello Meet Captain Kidd, 1952
Charles Laughton as the Kidd; Bud and Lou spoof the swashbucklers.
The African Queen, 1951
Bogart, Hepburn; river steamboat love adventure; based on C.S. Forester novel.
Billy Budd, 1962
Peter Ustinov, Terence Stamp, Robert Ryan, David McCallum; brutality in the sailing navy; based on Herman Melville novella.
The Bounty, 1984
Anthony Hopkins, Mel Gibson, Sir Laurence Olivier; revisionist take on the famous mutiny; based on nonfiction book by Richard Hough.
Captain Blood, 1935
Errol Flynn, Olivia de Havilland, Basil Rathbone; the definitive Hollywood swashbuckler; based on Rafael Sabatini novel.
Captain Horatio Hornblower, 1951
Gregory Peck is Hornblower; early-19th-century Royal Navy; based on C.S. Forester novel.
Captains Courageous, 1937
Spencer Tracy, Lionel Barrymore, Mickey Rooney, genuine Gloucester schooner; Grand Banks fishing adventure; based on Rudyard Kipling novel.
The Crimson Pirate, 1952
Burt Lancaster; all-stops-pulled-out swashbuckler with twinkle-toed sense of humor.
Das Boot (The Boat), 1981
the submarine movie to end all submarine movies; the most realistic sea epic ever filmed; based on Lothar-Gunther Buchheim novel.
A High Wind in Jamaica, 1965
Anthony Quinn, James Coburn; pirate meets children; based on Richard Arthur Warren Hughes novel.
Kidnapped, 1960
Peter Finch, James MacArthur, Peter O'Toole; Disney take on archetypal boy's sea adventure; based on Robert Louis Stevenson novel.
The Lady From Shanghai, 1948
Rita Hayworth, Orson Welles; film noir thriller on a yacht (in real life Errol Flynn's *Zaca).
Lifeboat, 1944
William Bendix, Tallulah Bankhead, Hume Cronyn; survival-at-sea epic; screenplay by John Steinbeck, directed by Alfred Hitchcock.
Moby Dick, 1956
Gregory Peck (Ahab), Orson Welles; whaling as morality tale; based on Herman Melville novel.
Popeye, 1980
who else but Robin Williams as Popeye, Shelly Duvall as Olive Oyl? saltiest sets in the Western World.
The Riddle of the Sands, 1979
small boat espionage along the Friesian coast; the mood and essence of the Erskine Childers novel.
The Sea Hawk, 1940
Errol Flynn; Sir Francis Drake and his band of happy marauders in the years before the Spanish Armada.
Treasure Island, 1990
Charlton Heston as Long John Silver, Oliver Reed as Billy Bones, need we say more?; based on Robert Louis Stevenson novel.
Yellowbeard, 1983
Marty Feldman, Eric Idle, John Cleese, Peter Boyle, Cheech & Chong, James Mason, Susannah York; the Monty-Pythoning of the swashbuckler.
A pirate movie hall of fame
The Black Pirate, 1926
Douglas Fairbanks swings through the rigging
Captain Blood, 1935
Erroll Flynn makes his mark as a manly man for all women
The Sea Hawk, 1940
Flynn again, taking swashbuckling to new heights
The Princess and the Pirate, 1944
Bob Hope in the first swashbuckler parody
Abbott and Costello Meet Captain Kidd, 1952
Bud and Lou in the ultimate swashbuckler parody
Treasure Island, 1934
Wallace Beery as Long John Silver in an authentic reading of the Stevenson novel
Peter Pan, 1953
Disney's animation of the J.M. Barrie play creates a entertainingly memorable Captain Hook
Treasure Island, 1990
Charlton Heston puts his stamp on Long John Silver Insider intelligence leads us to believe that Mr. Spectre created this list from the top secret files he uses to create his annual calendar:
A Mariner's Book of Days
, which is available for sale at your favorite bookstore or our
STORE
.