Bio - Everett "Red" Boutilier
Recording Maine's boatbuilding industry
By John K. Hanson, Jr.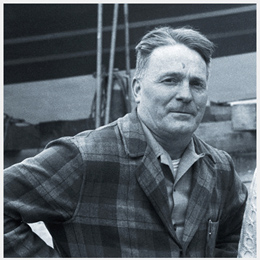 Everett L. "Red" Boutilier
One spring day in the early 1970s, I was playing hooky with my college buddies in the wonderful fishing town of Point Judith, Rhode Island. That's where I discovered the
National Fisherman
, a monthly newspaper that totally blew me away. Here was a commercial fishing publication about real boats and real men, and about the sea. While I had grown up sailing, I knew that was yachting; in my mind, at that time and place, I felt yachting wasn't the real thing. It was just play. Here, however, was the real thing -- fishing boats, small boats, boats to build, historic boats. Page after page of the
National Fisherman
dripped with the real thing. I didn't realize it then, but I do now: one of the reasons that the
National Fisherman
felt the way it did was the photographs in nearly every issue by Everett L. "Red" Boutilier. Boutilier himself was the real deal, a reporter and photographer who, from 1960 until just before his death in 2003, recorded the launchings of the ships and boats built in Maine's shops. To this day, sitting in the dooryard of his Bremen home, lies the carcass of the old station wagon that Boutilier put well over 100,000 miles on, banging up and down Maine's many peninsulas to record these launchings. The photographs he took are a window into our recent past.

Boatbuilding has always been a part of Maine commerce, but the era of the late 1960s and early 1970s was not a good time for the industry. In 1974 Richard Saltonstall published a book titled
Maine Pilgrimage, a look at America through the prism of life in Maine
. Saltonstall examined the condition of Maine's boatbuilding industry. His conclusion was that boatbuilding was an industry in decline, but he had hope for its future. It was during this period that Boutilier began his work. Red Boutilier's photos not only give us a look at that time, but they also help set the mythic stage for Maine's boatbuilders of today, who have carved a niche for themselves in the worldwide yachting market. Today's boatbuilders may not be wearing woolen shirts and working wood with an adze as they were in Boutilier's photographs, but their industry is healthier than it was 30 years ago. The value of Red Boutilier's relentless drive as a freelancer looking for paying outlets for his work is that the images he recorded of the workers and their boats of 30 years ago and more have become engrained in the consciousness of the boat world. Boutilier may have complained that the boatbuilders did not want to pay to promote their work, but he took the photographs anyway. Red Boutilier died in February 2003. His legacy is a vast collection of photographs, now preserved by the
Penobscot Marine Museum
in Searsport, that records the era that led to today's renaissance of the Maine boatbuilding industry. He was one of a kind.
Click here to view a gallery of Red's images >>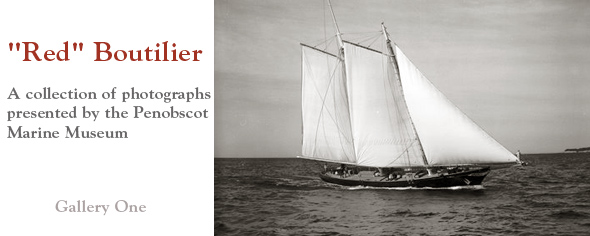 Share this article:
Digital Edition Available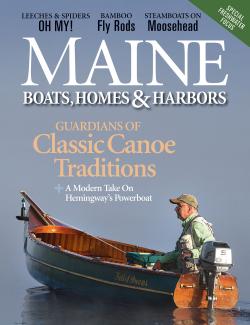 Can't get to the store to buy your magazine? We deliver the stories of Maine's coast right to your inbox. Sign up here for a digital edition.