2009 Show Wrap Up
7th Annual Maine Boats, Homes & Harbors Show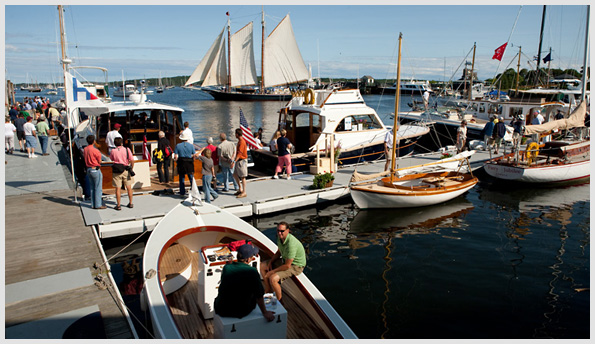 On the docks at the 2009 Maine Boats, Homes & Harbors show. Photo by Jeff Scher.
Click here to view the Show 2009 image gallery.
A stretch of well-deserved gorgeous summer weather and an incredible array of exhibitors helped make the seventh annual Maine Boats, Homes & Harbors Show a great success. More than 8,500 people came to the three-day annual event: boats were sold, contracts were signed, and vendors were kept busy, proof that although the year has been an economically challenging one for many there is a new sense of optimism and a recognition of the need to keep moving forward. "It was a terrific show," said John K. Hanson, Jr., publisher of Maine Boats Homes & Harbors magazine, which produces the show. "I believe the spirit and enthusiasm of this weekend have blown away much of the bad karma that has been felt over this past year. I think that we are heading into a new phase—one of optimism." There were 64 boats displayed in the water, from the hyper-modern to the historic sardine carrier Jacob Pike; builders from all up and down the coast and beyond were represented along the docks, their craft polished and buffed to perfection. Dozens more boats were arrayed on land for visitors to admire and climb aboard.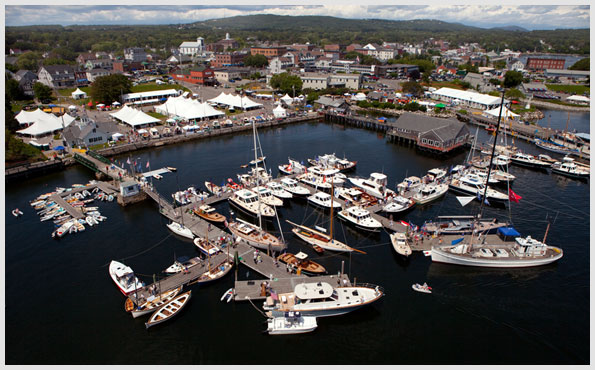 The 2009 show grounds from the air. Photo by Jeff Scher.
There were eight tents filled with exhibitors of all kinds, and additional outdoor displays all around Harbor and Buoy parks. The show's new theme: "Tradition Shapes Innovation" provided a lens through which exhibitors and attendees could consider the enduring qualities of Maine-built products--classic, timeless designs that are durable, practical, functional, and beautiful. The collection of handcrafted essentials for coastal life –boats, artwork, home wares, marine gear, decorative items -- that was on display reflected the traditions and styles of Maine's past, the innovation of design, and the emerging technologies that are shaping our future. A new addition this year was an entire tent dedicated to sustainability, which drew a great deal of attention, with visitors coming specifically to learn from those exhibiting in this area. "Resourcefulness and ingenuity have always made Maine boatbuilders and craftspeople leaders in forward-thinking innovation, and we see that in the cutting-edge technologies--composites, wind, tidal, and solar power--that are being developed by Maine thinkers," Hanson said. "It was evident everywhere as you walked around the show grounds and the docks."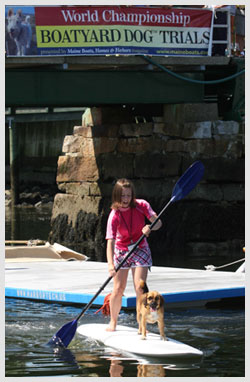 Pancho Villa shows his stuff.
Photo by Jamie Bloomquist.
One tent featured the work of fine artists and artisans and their hand-crafted wares. The Maine Wood Products Association again had their own area, which was filled with fine products made from local and exotic woods. An array of top fine-furniture makers turned their tent into a home-decorator's candy store. Ken Sawyer's "Yarkitecture" group collaborated to bring another new feature to the show for 2009. Stepping inside their tentwas akin to stepping into whole a world of innovative yet classic yacht-inspired design. Hanson was also excited by the community involvement with and around the show. "I loved the way the city of Rockland, including the Farnsworth Art Museum, the Strand Theatre, Atlantic Challenge, the Sail, Power & Steam Museum, the downtown galleries, Bay Chamber Concerts, the Windjammer fleet, and others all held special events," Hanson said. Speaking of special events, Pancho Villa, a "puggle" from Camden, won Sunday's World Championship Boatyard Dog® Trials with his extraordinary windsurfer performance, and the second annual Great Pen Bay Zucchini Regatta on Saturday drew some very creative "green" boatbuilding entries to the show's custom-built model pond. The Maine Boats, Homes & Harbors Show was founded in 2003 by Maine Boats, Homes & Harbors magazine. Held annually during the second weekend of August in Rockland, Maine, the show attracts thousands of attendees from all over the country and world. 2010 dates are August 13-15.