Common Ground Country Fair
A ritual for many Mainers.
By Lynette L. Walther

The MOFGA Common Ground Fair. Photo: Lynette L. Walther
Where did the summer go? Here we are ready to cruise inland to the Common Ground Country Fair in Unity, and we're marveling at how quickly the season has slipped by. Well, not exactly "slipped" by. We've all been busy with vegetable and flowerbeds, keeping the grass mowed and weeded, and putting in new plant discoveries, so we haven't exactly been frittering the season away. Even so it is fair time again, and it's always with a bit of melancholy that we head up to Unity for the Common Ground Fair, Maine's quintessential end-of-the-summer celebration. Sigh.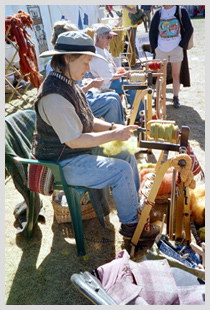 The MOFGA Common Ground Fair.
Photo: Lynette L. Walther
Melancholy aside, if the event is new to you, are you ever in for a treat! If you're an old hand at it, you have a good idea what to expect, anticipating everything that makes this event so special. Even so, each fall the Common Ground Country Fair never fails to amaze and surprise, and inform us while it's at it. Oh, what a shindig it is. After trekking from the parking lot through the almost-magical forest to reach the gates—where you're likely to see one of your favorite local farmer's market vendors handing out programs and taking your admission fee—the whole event spreads out before you like the Emerald City. It is difficult to decide where to head first. There are the mule and steer team events, the incredible poultry barn, sheep dog demonstrations, pony competitions, arts and crafts, demonstrations of local lore and tradition, a farmer's markets, equipment displays, live music, produce competitions, educational symposiums, children's events, hayrides, and my-oh-my the food booths. Bring along your appetite because the eating aspect of the fair is not to be missed. This year I plan to make a beeline for the demonstration gardens where the Maine Organic Farmers and Gardeners Association (MOFGA) gardeners have tried out a plethora of vegetable and ornamental varieties, weeding out the non-performers and exhibiting the best of the best. I expect there will be new and innovative developments to discover too, like a trail blazing device ("Roll A Ma Jig") on display one year that was made of inexpensive common components to roll over a prepared area of a garden to quickly and precisely mark out three rows with indentations eight inches apart in which to set out transplants. There will be taste tests such as a veritable rainbow of carrot varieties up for judging, annual flowers to amaze, and organic gardens to provide a lifetime of inspiration. This year's fair is September 21, 22 and 23 at the Common Ground fairgrounds in Unity. Those interested in entering fruits, vegetables, animals, baked goods, arts and crafts for judging must meet MOFGA organic requirements. Gates open at 9 a.m. For more information, visit the MOFGA website at:
www.mofga.org
or contact the Common Ground Country Fair office at P.O. Box 170, Unity, ME 04988-0170 or call (207) 568-4142. I'll see you at the fair!

Contributing Garden Editor Lynette L. Walther is the recipient of the National Garden Bureau's Exemplary Journalism Award and the IABC Silver Quill Award of Excellence. She is a member of the Garden Writers Association. She gardens in Camden.
Share this article:
2023 Maine Boat & Home Show

Join Us for the Maine Boat & Home Show!
Art, Artisans, Food, Fun & Boats, Boats, Boats
August 11 - 13, 2023 | On the waterfront, Rockland, Maine
Click here to pre-order your tickets.
Show is produced by Maine Boats, Homes & Harbors magazine.