Schooner Polly
A detailed account of the famous old schooner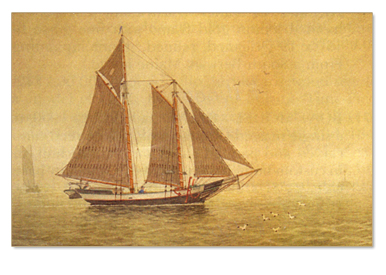 At a recent auction at Thomaston Place Auction Galleries in Thomaston, Maine, a local collector bought this beautiful little watercolor by Percy Sanborn of the schooner
Polly
. In it, the vessel appears to be sailing off Belfast harbor. Sanborn was a Belfast painter who was active in the 1870s. Further research turned up this fascinating history:
The Schooner Polly in 1913
The oldest American vessel, built in 1806, then in commercial service. A detailed account of the famous old schooner
Polly
, with a large picture of her under sail, appeared in the
Republican Journal
for March 8, 1904. She was, at the time, lying in winter quarters at the Swan & Sibley Company's dock, after a busy season spent partly in bay-coasting, and partly as a Boston packet, under command of Captain George Flowers Ryan, of Belfast. The oldest vessel of the American merchant marine now in commission, she has had a life of usefulness and adventure, such as few craft experience. Her history to date is an interesting one, and in view of her great age, which exceeds by several times the span of life usually allotted to ships, and because of her having been identified with Belfast, it is given in part
here.
The National Society of the United States Daughters of 1812 has been active in collecting material relative to its contemporary, the
Polly
, and is always ready to do her honor, and of late years she has attained much notoriety, and has been often in the public eye through the columns of the daily press. She bears on the outside forward end of her cabin-house, a handsome bronze tablet, inscribed as follows:
POLLY SCHOONER BUILT IN 1805 PRIVATEER IN WAR OF 1812 CAPTURED 11 PRIZES THIS TABLET PLACED NOVEMBER 2, 1910, BY THE NATIONAL SOCIETY OF THE UNITED STATES DAUGHTERS OF 1812 STATE or NEW YORK
From History of the City of Belfast in the State of Maine, Volume II, 1875-1900, by Joseph Williamson (Houghton Mifflin Company, Boston and New York, 1913)

Related:
Polly, described in the Republican Journal, 1904 >>
Polly's Owners >>
Why Polly Lasted as Long as She Did >>