Polly's Folly Fall Regatta
An annual event on Megunticook Lake
By Polly Saltonstall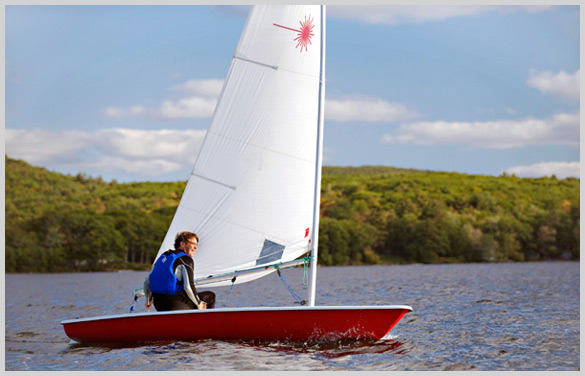 John Hanson, co-host of the 2008 Polly's Folly regatta, in the Laser class on Megunticook Lake.
Photo by Jeff Colquhoun.
Click here for more photos.
A record turnout of ten Lasers, three small sloops, a Trimaran, and a sailfish competed on a blustery fall Saturday in the fourth annual Polly's Folly Fall Regatta on Megunticook Lake. Winds gusted over 15 knots at times, leading to several spills, one of which sent two youngsters into the still-warm lake waters for an unexpected fall swim. Both were hustled ashore by the race committee, given hot showers, and warmed up with hot cocoa. Other entertainment was provided by one hapless Laser skipper who disembarked on a swim float to make some small repairs to his boat, only to watch it sail off without him. Ken Bailey of the Lake Patrol came to his rescue. Then the race committee had to paddle ashore mid-regatta for an engine tune-up. But overall, everyone had a glorious time against a backdrop of spectacular fall foliage. Two of the races were short windward/leeward courses between Crane Island and Lake City. The third took the Lasers on a figure-eight course around Fang and Crane Islands, while the sloops rounded Fang only. First place in the Laser class went to Fred Boursier, who compiled the best record over three races. First place in the sloop class went to Guy Polyblank, who was sailing a vintage British wooden dinghy called a GP 14. Second place in the Laser fleet went to Mike Gaffney and third to Syd Sewall. Bob Wellen, Mark Gaffney, and Doug Roth tied for fourth, followed by John Hanson, David Jones, Rufus Williams, and Martha Page. Will Dennet skippered the trimaran. Second in the sloop class went to Jamie Bloomquist and Tris Coburn sailing a Hunter 14, followed by Scott Carlson of Camden in a vintage wooden Bluejay with his sons Bryce and Rory and John Hanson's son, Jack. The sailfish was skipped by Richard Saltonstall. The races were followed by an awards ceremony and barbecue at Polly's Folly. The annual race is hosted by John Hanson and Polly Saltonstall at their camp, Polly's Folly, on Megunticook Lake in Camden.

Share this article:
Digital Edition Available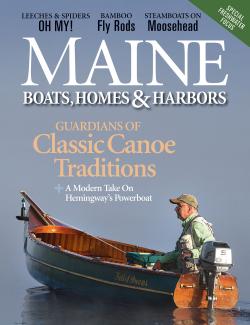 Can't get to the store to buy your magazine? We deliver the stories of Maine's coast right to your inbox. Sign up here for a digital edition.