Marblehead Class Model Yacht Regatta
The U.S. Vintage Model Yacht Group Regatta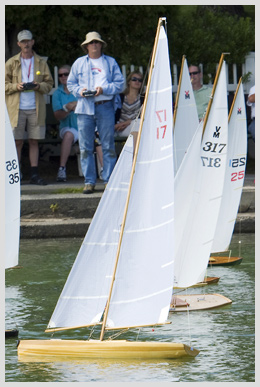 Image © 2007 Pat Butterworth
View image gallery below
The US Vintage Model Yacht Group (VMYG) and Marblehead Model Yacht Club (MYC) co-hosted the 13th annual National Vintage M (VM) Regatta on August 16-19 at historic Redd's Pond in Marblehead, MA. The event was in honor of the 75th anniversary of the M 50-800 design becoming a US national class in 1932. Twenty-nine VM and nine Vintage 36 skippers signed up, with 31 different vintage models from around the country. Pond-side weather was pleasant and mainly sunny, with temperatures in the upper 60s to mid-80s Thursday through Sunday. The one exception was a front late Friday that caused gusty winds for Saturday's R/C VM racing. This provided the spectators with spectacular racing scenes involving broaches and planing conditions. Light winds were the norm on the other three days, during which 74 races were held. A Friday reception was hosted by the Marblehead Museum and Historical Society (MMHS) for their M Class History exhibit with 1930s Marblehead models. The MMHS created a "virtual tour" of this exhibit at:
www.marbleheadmuseum.org
The Regatta Dinner on Saturday featured an after-dinner presentation on the 1930 "Yankee" J Boat and its Marblehead connection. As a tradition at the national event, there was a VM Craftsmanship competition for superbly-built and re-finished wooden M boats. The builders' work was judged by their peers. As "Best in Show", Harry Mote from New Jersey took home the vintage Stanley (tool) miniature plane award. The "Marshall Croft" Sportsmanship Trophy was awarded to Earl Boebert from Albuquerque, New Mexico, in honor of his calm demeanor when tuning and racing his newly-built 1930s "Sonder" design M model for the first time. From August 16th to the 19th, 2007 a fleet of Marblehead Class Radio Controlled model yachts raced in the 75th Anniversary M Class Regatta.