Lyford Leverett Stanley, 1926-2007
Designer of the Stanley 36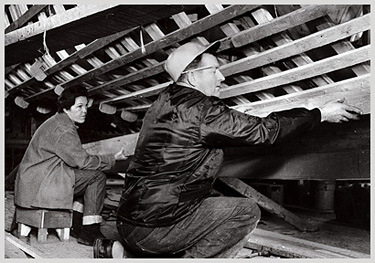 Lyford Stanley and his wife Norma.
Photo courtesy of John Williams Boat Company
Lyford Leverett Stanley, 82, the highly respected boatbuilder and mariner from Bass Harbor, died Nov. 30, 2007, at a Bangor hospital after a short battle with cancer. A memorial service will be held in early July 2008, on Gotts Island. Details will be published at that time. In lieu of flowers, memorial contributions may be made to West-side Food Pantry, St. John's Episcopal Church, Main St., Southwest Harbor, ME 04679. Stanley realized his dream of becoming a boatbuilder with the Southwest Boat Company and the Henry R. Hinckley Company in Southwest Harbor before building his own first boat,
Little One
in his spare time. He designed the Stanley 36 lobsterboat, which is still being built today by the John Williams Boat Company on Mount Desert.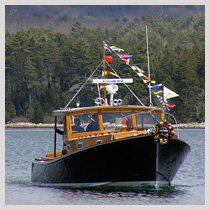 The Stanley 36. Photo courtesy of
John Williams Boat Company
Boatbuilding was his life's passion, but Mr. Stanley was a man of many talents. He also worked as a lobsterman, scalloper, halibut fisherman, purse seiner, clammer, harbor master, tour boat skipper, water taxi driver--just about anything to do with being on the water.
Click here to find out more about Lyford Stanley.
Click here to view a recently launched Stanley 36.