J & E Riggin Goes Green at Sea
By Lynette L. Walther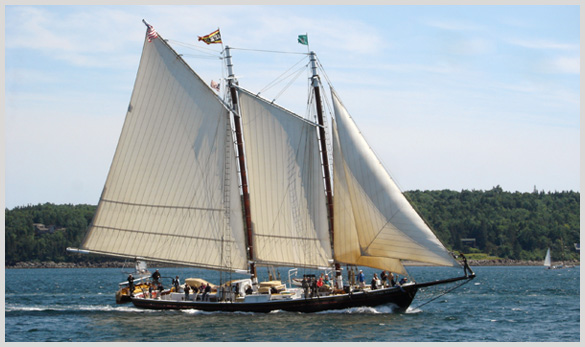 J & E Riggin. Photo by Elizabeth Poisson
Talk may well be cheap. But the owners of one of Maine's coastal passenger schooners are putting words about caring for the environment into action, and they are certain that their efforts will make waves. In a multi-pronged approach the captain-owners of the Rockland-based, passenger schooner
J & E Riggin
, Jon Finger and wife Anne Mahle are making strides toward environmental protection, and in the process are showing that going green can be done at sea. "It is in our control to do no harm [to the environment]," stated Mahle of their efforts to reduce their personal and corporate "carbon footprints." "It's just being responsible, like picking up after yourself," she said. Their plan calls on a variety of techniques: using local produce, home gardening, recycling, composting, going carbon neutral, and more.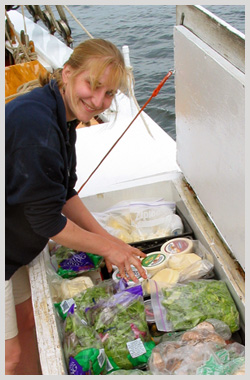 Anne Mahle stows food in the cooler on deck.
Photo by Frank M. Chillemi
A passionate cook, Mahle's galley on the
Riggin
has long relied on fresh, local, produce and herbs. A subscription of several shares from a community sponsored agriculture (CSA) farm, Hope's Edge, provides her with some 30 to 50 pounds of fresh produce each week for meals aboard the schooner. Preparing three meals per day, every week of the season, for 20-30 people, at sea, on a wood-burning stove is a daunting proposal in itself. Add to that the serendipity of variety that a CSA presents (a CSA share is made up of whatever produce is in season that week), and a cook has to be creative and flexible as well. For consistency, Mahle's home garden is called upon to provide nearly all the herbs used aboard—basil, rosemary, sage, thyme, fennel, cilantro, lovage, chives, mint, lemon balm, and edible flowers from borage, Johnny jump-ups, and pansies to spicy nasturtiums. Plus, the home garden supplements CSA offerings with extra lettuce, carrots, and beets. But that's not all that the home garden does. It is the recipient of the considerable amount of compost made from each cruise's vegetable and leftover scraps. Remember those three meals served each day to 20 or 30 people? What? Composting at sea? "We have enough space on the boat to compost all the (scrap) food," Mahle stated. "We have five five-gallon buckets, and even though it took some time to figure out where to put them (in the lazarette eventually) so they wouldn't spill, it worked out well. I even have a lid in my countertop in the galley, so I can just slip the scraps into a bucket." Anyone who has ever wondered what to do with all the shells, corncobs, and other food debris left over from a lobster bake, can take their cue straight from a page in Mahle's recycling book. Like most of Maine's passenger schooners, the
Riggin
often treats passengers to an on-shore lobster bake. The scraps are, of course, composted. At the end of each week's voyage the buckets are taken ashore and their contents are incorporated into a compost pile to later be used in the 1,000-square-foot home garden. It has taken time to get the whole system worked out, but it has been a smashing success. Mahle figures that she gets a few yards of compost from the system each season. Even the passengers have taken to the process. "I think we're doing a bit of educating as we go along," Mahle said. "The compost is actually a bonus and not the real reason we're doing this. We are doing it so we don't have so much trash to take ashore. We always have done a lot of recycling, but we were always trying to find a place to take garbage ashore before." But that's not the end of the role the home garden plays. "All the office paper and any cardboard we get goes to the garden to line pathways and is also put down in those areas where we want to expand the garden," she said. Those areas are mulched with hay for appearances and it all eventually breaks down to enrich the soil. "I love it that we don't take paper to the dump," she added. In addition, onboard and at-home cleaning products used are "eco-friendly." Many are homemade. Recipes for several cleaners can be found in Mahle's book,
At Home, At Sea: Recipes from the Maine Windjammer J & E Riggin
." "Among the other things we have been doing is to see if we can go carbon neutral," Mahle explained. "Our house and business are all carbon neutral, and when our passengers want to make their trip here carbon neutral, we help facilitate that process. And next year we'll be buying biodiesel for the yawl boat (the
Riggin
has no auxiliary engine). "Next year, we have added three cruises to our schedule and all the food for those will come from no more than 100 miles away— all the flour, grains, produce" she said. "Right now 75 percent of what we serve is local or organic, and we use over 15 different local purveyors to get our local food." She's still counting on a flash of inspiration to replace her beloved olive oil during those cruises, but Mahle said in general their eco-efforts have actually been quite simple. "It just makes common sense," she stated. In a way their efforts could actually be taking the
J & E Riggin
back to a time when the only energy the historic schooner consumed was the muscle-power required to raise the sails and the breeze to fill them.

Contributing Garden Editor Lynette L. Walther is the recipient of the National Garden Bureau's Exemplary Journalism Award and the IABC Silver Quill Award of Excellence. She is a member of the Garden Writers Association. She gardens in Camden.
Share this article:
2023 Maine Boat & Home Show

Join Us for the Maine Boat & Home Show!
Art, Artisans, Food, Fun & Boats, Boats, Boats
August 11 - 13, 2023 | On the waterfront, Rockland, Maine
Click here to pre-order your tickets.
Show is produced by Maine Boats, Homes & Harbors magazine.