Educational Passages Ocean Project, Part One
The Journey (to Europe?) Begins
By Educational Passages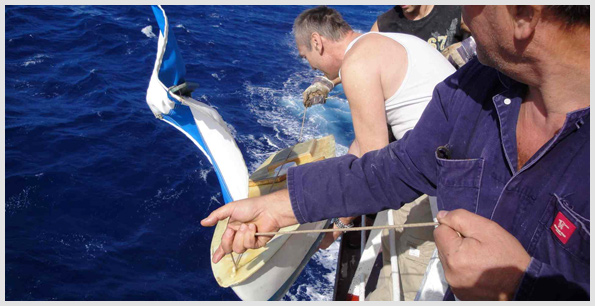 The small, unmanned sailboats are launched into the Gulf Stream from a huge freighter.
Click on the image above to view see a larger version.
December 1 2010 – Early on the morning of November 18, 2010, the Brazilian freighter
Fenella
departed from the docks at Searsport, Maine. Lashed to the afterdeck of the huge vessel was a tiny fleet of four five-foot-long small sailboat models, each equipped with a GPS unit. The
Fennella
will transport the fleet to a release point somewhere between Bermuda and the Caribbean island chain. There, the boats will be launched and sent on their way, alone, on a "race" to Europe, or to wherever wind and waves take them. The program was designed by Educational Passages as a way to offer a wide array of learning experiences for Maine students from grades 3 through 12. The on-board GPS units will allow the students to monitor boat-speed, position, and course. The craft are self-steering and powered only by the ocean winds and currents. Some teaching areas will include boatbuilding and design, oceanography, geography, map reading, earth science, and international relations. The students and others will regularly monitor the boats, and we will provide updates here on their progress, including an assessment of how, when, and where the boats might end up. In a flourish of international relations, the Maine students will also need to arrange the recovery of each boat as it comes ashore. The plan is for local students to contact students in Europe and have each boat met when and if it makes landfall. According to the organizers, as long as the mast and sail remain attached and upright, each boat will sail for months until it eventually makes landfall on a far-away shore. Periodic updates will be published here as we have them, so stay tuned!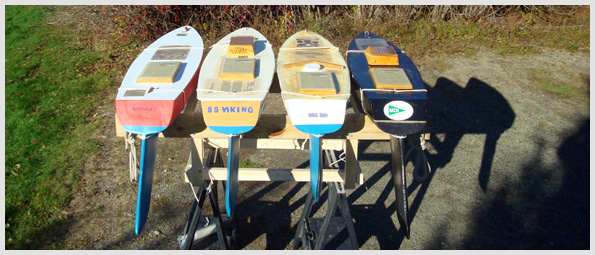 The four unmanned sailboats, ready for launch.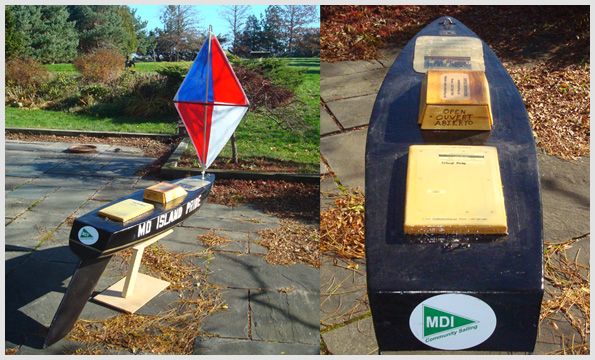 As long as rig stays attached and upright, the boats will sail downwind.
Click on the image above to view see a larger version.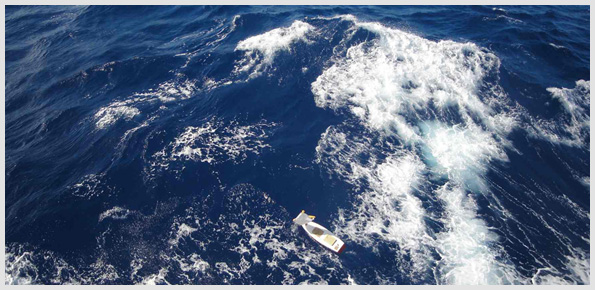 A freighter's-eye view as one of the boats sets off on its voyage. Click on the image above to view see a larger version.
This is the first in a series of stories that will be posted as we follow the boats across the Atlantic. Additional updates will be posted on the maineboats.com home page. Facebook users can get updates by clicking the "Like" button at the top of the Maine Boats, Homes & Harbors Facebook page.
Click here to find us on Facebook.

About the Organization
Through the work of volunteers from the boating community, Educational Passages has created a hands-on multidisciplinary learning experience for students of all ages. Students follow the voyage of their own unmanned mini-sailboats, which are equipped with GPS tracking devices. Several schools will launch their boats all at once, then follow their progress across the Atlantic ocean. The five-foot-long models sail directly downwind month after month with the wind as the only propulsion. As these boats travel the oceans of the world to faraway lands, the students will learn about: » Navigation » Geography » Earth science » Oceanography » Naval architecture » Boat building » International relations » & Meteorology
Share this article: