Strand Theatre - All At Sea
at The Strand Theatre, Rockland

The Maine Boats, Homes & Harbors Show has sparked a city-wide collaboration of fun events, loosely called the "Coastal Creativity Week." This year, as part of the fun, the newly restored Strand Theater on Main Street will host the "All-At-Sea Film Series: a weekend of classic sea-faring films." After a fun day at the show, kick back and relax as the Strand Theatre weighs anchor for a summer voyage featuring a veritable flotilla of sea-going movie classics! It's a chance to see some of your old favorites on the big screen – from swashbuckling adventure to zany comedy to high-seas drama, and ALL SEATS ARE ONLY $5! A complete list of the films and show times are listed below.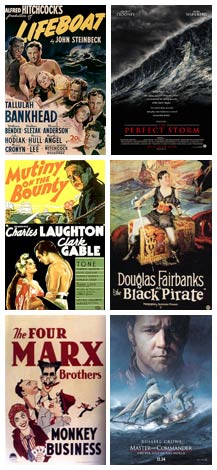 FRIDAY, AUG 10 - 5:30 PM
LIFEBOAT (1944)
Director Alfred Hitchcock's wartime psychological drama, based on a story by John Steinbeck, brings seven people of very different backgrounds and points of view together in a lone cramped lifeboat after their ship is torpedoed by a Nazi submarine. Tallulah Bankhead, William Bendix, Henry Hull, Canada Lee, John Hodiak, Hume Cronyn and Walter Slezak head up the top-notch cast. Bankhead received the 1944 Best Actress Award from the New York Film Critics Circle for her bravado performance, and the film recieved Academy Award nominations for direction, original story, and the stunning black and white cinematography.
FRIDAY, AUG 10- 8:00 PM
THE PERFECT STORM (2000)
The battle between man and the ocean, between ships and violent unpredictable weather is as old as humanity itself. But on Halloween night 1991 the crew of a small Massachusetts fishing boat found itself locked in life-and-death conflict with an epochal hurricane. Based on the best-selling book by Sebastian Junger, the film stars George Clooney, Mark Wahlberg, John C. Reilly, Diane Lane, Karen Allen, and Mary Elizabeth Mastrantonio.
SATURDAY, AUG 11- 5:30 PM
MUTINY ON THE BOUNTY (1935)
Winning the Oscar for best picture in 1935, Mutiny On The Bounty chronicles the real-life mutiny aboard the HMAV Bounty lead by Fletcher Christian against the ship's abusive captain, William Bligh, during their legendary voyage to Tahiti. Featuring lavish settings and scenery, this engrossing story Star's Clark Gable as Fletcher Christian and Charles Laughton as Captain Bligh.
SATURDAY, AUG 11- 8:00 PM
THE BLACK PIRATE (1926)
SPECIAL SILENT FILM EVENT
with live musical accompaniment! The pattern from which every subsequent pirate movie would be cut, Douglas Fairbanks' legendary silent tale of high seas adventure and romance features breathtaking stunts, spectacular sea battles and delicate two-color Technicolor photography. One of the most successful features to be shot in the early color process, The Black Pirate has been meticulously restored from Fairbanks' own set of original negatives, and we proudly present it with an original piano score by Strand Theatre favorite Doug Protsik.
SUNDAY, AUG 12- 3:00 PM
MONKEY BUSINESS (1931)
What's more fun than a barrel of monkeys? How about four barrels full of Marx Brothers! Join Groucho, Harpo, Chico, and Zeppo as they stow away on an elegant art-deco ocean liner and wreak havoc with a motley assortment of gangsters, gun molls, ships' officers, immigration officials, puppet shows, and Maurice Chevalier! Legendary comedienne Thelma Todd offers up plenty of high-voltage counterpoint to the Brothers' antics.
SUNDAY, AUG 12- 7:00 PM
MASTER AND COMMANDER: THE FAR SIDE OF THE WORLD (2003)
Russell Crowe stars as British naval captain Jack Aubrey in this rousing adaptation from the novels of acclaimed maritime adventure author Patrick O'Brien. It is 1804, and as Britain and France vie for control of the high seas, the crew of HMS Surprise face the greatest challenges of their lives – both from a pursuing French privateer and a relentless ocean storm. Nominated for ten Academy Awards, the picture sailed home with two Oscars, including Best Cinematography. For more information, visit the Strand Theater website:
www.rocklandstrand.com
or call 207-594-0070