Water Ways: A World Unknown
By Melissa Waterman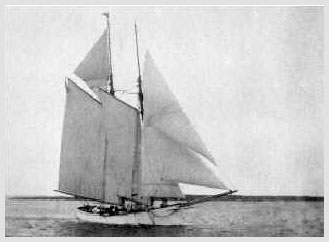 Bigelow's first research voyages were aboard
the small wooden schooner
Grampus
.
Photo courtesy University of Maine, Orono.
Yes, it's spring. Finally. The fresh breezes and faintly green trees have pulled me forth from my winter hiding place poised for adventure. Ready to explore strange new worlds, to seek out new life and new civilizations, to boldly go. . . . Whoops, sorry, that's the prelude to "Star Trek." Yet the same sentiment applies. Spring is a time when we feel the urge to be bold explorers who delve into the mysteries of the re-emerging world. That's just what a gentleman named Henry Bigelow did eight decades ago. This year marks the eighty-fifth anniversary of the publication of Bigelow's famous book,
Fishes of the Gulf of Maine
, in which he and his colleague, W.W. Welsh, first set down on paper a comprehensive study of the fish, plankton, and currents of the Gulf of Maine, which stretches from Cape Cod to Nova Scotia, and encompasses all of Maine's coastline. The year, 1925, was the first time a thorough scientific study of the gulf was published, a fact that is all the more remarkable when you consider that the gulf had been well known, first to European and then to American fishermen for at least 400 years.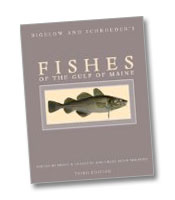 Bigelow's famous book:
Fishes of the Gulf of Maine
.
. Henry Bryant Bigelow was born into a wealthy Boston family in 1879. As a boy, he liked birds. As a young man at Harvard University, his interests turned to squishy sea creatures – marine invertebrates. While pursuing advanced degrees at Harvard he linked up with Alexander Agassiz, son of the famous naturalist Louis Agassiz. In 1848 the elder Agassiz came to America and took a professorship at Harvard. Later he founded and ran Harvard's Museum of Comparative Zoology where his son Alexander served as a professor. The younger Agassiz was interested in the creatures of the sea, particularly those found in the south Pacific. Anxious to get out and see the world, Bigelow asked Agassiz to take him, a 22-year-old undergraduate student, along on his next collecting cruise. Agassiz agreed, and in the winter of 1901 Bigelow served as assistant on an expedition to the Maldive Islands in the Indian Ocean. During the course of this trip, Bigelow traveled to Naples, Ceylon, Algiers, Batavia, Singapore, Hong Kong, and Tokyo before returning to the United States. Back at Harvard, he catalogued and studied the Medusae he had collected on the voyage, leading to his Ph.D. in 1906. Degree in hand, Bigelow was promptly hired by the Museum of Comparative Zoology as a professor. Eventually he became curator of oceanography for the museum.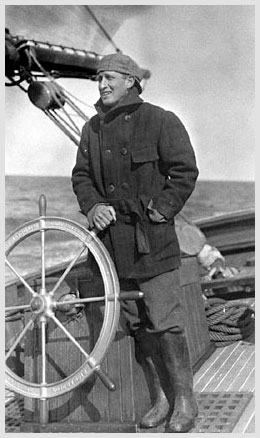 An iconic portrait of Henry Bigelow.
Photo courtesy of Woods Hole
Oceanographic Institute.
In 1912, His world travels completed for the moment, Bigelow turned his enthusiastic mind to the Gulf of Maine. He wrote a short monograph on Gulf of Maine plankton in 1926, noting how little was known at that time about this region of the Atlantic Ocean: "Few living zoologists have been as fortunately placed as were we on setting sail . . . from Gloucester on our first oceanographic cruise in the Gulf of Maine on July 9, 1912, for a veritable
mare incognitum
lay before us, so far as its floating life was concerned…." He added "everything was yet to be learned as to what groups or species would prove predominant in the pelagic fauna…We even had no idea [incredible though it may seem in this place and day] what we should probably catch when we first lowered our tow nets into deeper strata….for, so far as we could learn, tows had never previously been tried more than a few fathoms below its surface." Bigelow's first voyages were supported by the museum and the U.S. Bureau of Fisheries, which loaned him the small wooden schooner
Grampus
. A famous picture of Bigelow taken in 1912 shows him wearing a standard peacoat, one hand in his pocket, the other on the vessel's huge wheel. His face gleams with a slightly wild grin. To my eye he looks undeniably thrilled. I suspect that Bigelow had a blast. From 1912 to 1928, Bigelow and his colleague William Schroeder tended 350 stations in the Gulf of Maine region taking regular measurements of temperature and salinity. They towed nets behind the vessel 10,116 times, and cataloged everything they found. They set 1,000 drift bottles in the Gulf to determine how the currents moved. They sailed in all weathers and in all portions of the Gulf, taking notes on everything they found. Their capacious ledgers of data came together in
Fishes of the Gulf of Maine
, first published in 1925. The enormous book was a taxonomist's delight, the first comprehensive authority on life in the Gulf of Maine. It listed 83 families of fish comprising 178 distinct species and for the first time, provided data on species of plankton found in the gulf. Bigelow and Schroeder updated the tome in 1953, at which time they added 25 additional families of fish and described 219 individual species.
Fishes of the Gulf of Maine
was revised yet again in 2002 by the Smithsonian Institute. By this time scientists had discovered ten more families of Gulf fish comprising a total of 252 species.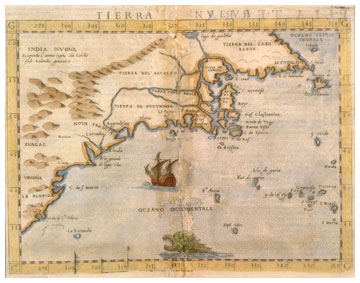 Map courtesy of Osher Map Library, University of Southern Maine
Click the image to view larger.
After completing his work on the Gulf of Maine, Bigelow went on to many other adventures. He was the first director of the Woods Hole Oceanographic Institute in Massachusetts from 1930 to 1939. He continued to serve as curator of oceanography for the museum, retiring from that position in 1962. He wrote an aptly-titled memoir in 1964 called
Memories of a Long and Active Life
in which he recounted numerous big game hunting and fishing exploits around the globe. He died at his home in Concord, Massachusetts, in 1967. It's hard to imagine what the Gulf of Maine must have represented back in 1912 when Bigelow pulled on his peacoat and sailed away. Gone were the old sailors' maps inscribed with fantastic sea monsters and spouting serpents but still, the Gulf of Maine carried within it mysteries that no scientist had ever discovered. Now we have oceanographic data by the gigabyte coming in from space, from under the sea, and through the air. Still, I like to think that no part of the natural world is ever fully known, much less understood. Like Bigelow, I too can explore the world made new every spring.
Share this article:
2023 Maine Boat & Home Show

Join Us for the Maine Boat & Home Show!
Art, Artisans, Food, Fun & Boats, Boats, Boats
August 11 - 13, 2023 | On the waterfront, Rockland, Maine
Click here to pre-order your tickets.
Show is produced by Maine Boats, Homes & Harbors magazine.