Letter from Matinicus - Our Prom: Politics Made Us Do It
Our Prom: Politics Made Us Do It
By Eva Murray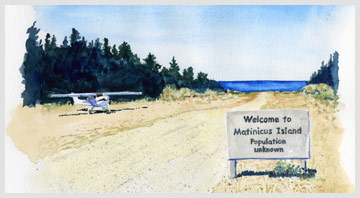 Illustration by Ted Walsh
I don't suppose you'd buy it if I told you that we'd had a prom on Matinicus Island, would you? I didn't think so. Pirates can't very well tie their white ties with those meat hook hands and anyway, the Trustees don't much like to have parrots around in the church basement.
It is true, however. Back a wee bit, before the Regulars began leaving for the season (and I mean the friendly sort of part-timers we get here) all the best-dressed among the various generations congregated below stairs to dance under stars.... Gold foil stars, that is.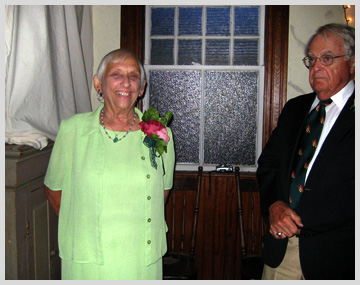 A rare chance to dress up was enjoyed by the Maloneys.
The basement of the Congregational Church (yes, we have a church. It isn't a very religious church by some people's lights, but that's a matter of opinion) was delightfully decked out for the first Matinicus "Prom." The theme was "Starry, Starry Night" (perhaps an act of resistance against a despairingly foggy summer). No, the Don MacLean song of that name was not played; all agreed that sad songs had no business here, given all of our other troubles. Without a rental limo in sight, islanders arrived in pickup trucks (although to his credit, Maury painted his rig with stove-black and hoisted a sign upon it that read "Limo"). You still don't believe me, do you? Somewhat to the chagrin of my date, who is well-known to all around here as being rarely attired in aught but bib overalls and folding ruler, I had confessed earlier in the year to the possession of a prom dress. I'll admit, this makes little sense now and it made even less then. It was at the June 2008 Primary Election where I, as ballot clerk, spinning yarn in the most literal sense between infrequent voters, got chatting with the Town Clerk and others about making purchases at the Rockland Goodwill Store. Election days on Matinicus, aside from being the two times each year that our wool-spinners get together, usually ends being up a comical juxtaposition of opposing sympathies...not political (in that, we are able to keep our own counsel), but in the realm of the feminine arts. J. and K. know their way around the better shoe stores in a big way, understand the lingo of the Vogue article and the nail salon, and believe that it is reasonable to spend more than ten bucks on underwear. R. and E. figure it's obligatory to brush your hair at least every second day. We guess.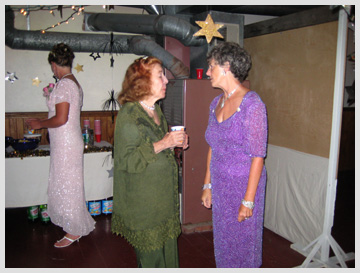 Does it really matter where prom regalia comes from?
At any rate, Fashionistas and Neanderthals passed the time until the polls closed, enjoying the refreshments (the presence of homemade doughnuts is our own little "get-out-the-vote" effort) and making idle conversation, including some concerning our common agreement that the local second-hand store is well worth the trip. Said I, for better or worse, "I even got a prom dress there. It cost me $7.95. I love it. Of course, I've never had any occasion to wear it." It was all down hill from there. Our Clerk and Registrar, as it happens, had in her day attended six proms. I do not know how this works; calculus, perhaps. Anyway, the idea of a dress occasion on this island had long been a bit of a twit. ("How about a formal-attire-only weenie roast? ") She took the idea and ran, discovering also that a great many of us had never been to our own high school proms. Two months later, the reality was undeniable: we were going to the prom, bloody knuckles and all. Neither my husband nor I had actually ever been to such a thing as a formal dance, for legitimate but uninteresting reasons. We were prom beginners. Suggestions were strongly offered that hinted at such procedures as toenail painting, hair gel and, terrifyingly, eyebrow plucking. I shudder to think. Supposedly people go through this all the time. My date was more than a good sport with his chinos and one-and-only necktie (the family tartan plaid, real thing, direct from Scotland, ye gods and little fishes.) "I will go, because you are going, but do not expect sartorial splendor!" Dancers ranged in age from 21-ish well into retirement; the exception being that our heavily gray-rooted crowd was ably chaperoned by two teenage islanders, ("Iron Chef" and "Barefoot Savage,") and their dates, who happened to be easily the two most civilized 18-year-olds in Rockland. The music was entirely requests, covering about an 80-year span. A list had been posted in the store for the past few weeks and many slips of paper and mentions of tunes had been handed to our Eric. He managed the tactic of hitting a particular tune as certain people entered the room (as Suzanne waltzed in, he struck up the Glenn Miller, for example). Dresses were scooped up from Goodwill by at least one confused lobsterman who was just following orders. These were to be issued to female island visitors who somehow had not realized that they had needed to pack their frou-frou and marabou for a week in a dirt-road rental camp.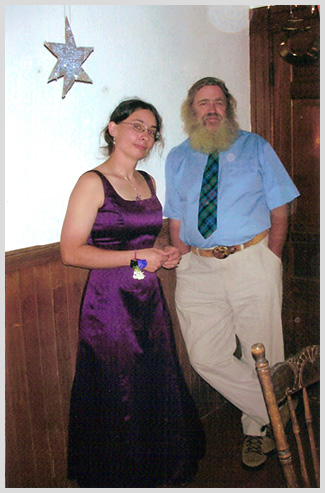 Sartorial splendor at the Matinicus Prom.
Before the dance, our four intrepid teens liberated some flowers from the garden of somebody who needed to contribute them, and created "boutonnieres" and corsages for a few couples, as well as one rosebud thoughtfully created entirely of pink and green duct tape. We had formal prom photos which cost money, glittery decorations and sugary punch, people outside drinking, guys standing against the wall unsure just why they needed to be there, and somebody with a video camera who almost got into real trouble because of it (turns out he was an innocent, put up to it by another). Some of us were duded up and really cool (e-Bay helps a good deal), some tottered unsteadily on unfamiliar heels, some gleefully showed off their skill with same (rare to this place). Some of us desperately needed a night out, some were worried about work the next morning.
I do not know how to dance, refuse to pluck, and had bread dough under my fingernails. I just wanted to wear my shiny purple dress. It was all OK. We didn't even have any real trouble using the outhouse behind the church in the dark with our long dresses. Let's see if we stay out of trouble this election day.

Share this article:
2023 Maine Boat & Home Show

Join Us for the Maine Boat & Home Show!
Art, Artisans, Food, Fun & Boats, Boats, Boats
August 11 - 13, 2023 | On the waterfront, Rockland, Maine
Click here to pre-order your tickets.
Show is produced by Maine Boats, Homes & Harbors magazine.