Compass Rose Review: Boat Names
An excerpt from Mariners Miscellany
By Peter H. Spectre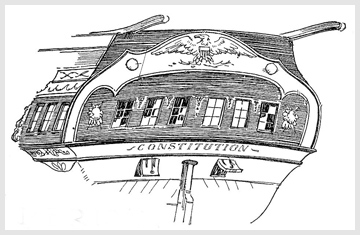 Superstitions about the names of vessels • Seven letters in a name will ensure good luck, as will three of the letter "A." • Bad luck is certain if you launch a vessel without a name and then name her after she is afloat. Other portents of bad luck: • A name that begins with "A" • A vessel named after a snake or reptile • A vessel named after one that has sunk (
Titanic, Andrea Doria, Edmund Fitzgerald
, etc.), or after a storm (
Hurricane, Gale, Cyclone
, etc.), or a fearsome creature of the deep ((
Kraken, Octopus, Serpent
,, etc.), or a cataclysm (
Quake, Eruption, Big Bang
,, etc.), or an evil character ((
Judas, Brutus, Pilate
,, etc.) • Don't give a vessel a high-and-mighty name (
Sovereign of the Seas, Audacious, Winged Victory
,) if she is not of the highest quality, as the gods of the sea might be angered. When choosing a name, keep in mind that it should be • Easy to remember • Easy to spell • Easy to pronounce • Easy to understand • Easy on the ears Whatever name one chooses, it may soon be invested with properties one didn't mean it to have; it may lack qualities one had hoped for. Yet, one is impressed by names like Bloodhound and Northern Light, which seem to evoke the long, lean ocean-racing yawls they were attached to. There is a martial ring of discipline and strength to
Resolution
and
Despatch
, and an inescapable romance in
Malay
,
Bandit
, and
Finisterre
. —Anthony Bailey Now, what a ship was christened, so let her stay, I says. —Long John Silver On renaming the boat Don't do it (bad luck will likely follow if you do), but if you must: • Go heavy on the appeasement end of things. • Confess your sins, and beg the gods and goddesses of the sea for forgiveness. • Never perform the ceremony on a Friday. • Never, ever, rename the craft Black Pig or Friday the 13th. • Circle the boat twice, against the sun, or counterclockwise, to awaken the demons; then with the sun, or clockwise, to drive the demons away. If the boat is on land, circle her on foot: barefoot preferably; if not, wear sandals. If the boat is afloat, circle her by rowboat; oars or paddle only, as the gods and goddesses referred to above are offended by outboard motors. • Burn the old nameboard and scatter the ashes on the sea. • Wash away the old name—figuratively speaking—by splashing the bow of the boat with a pail of fresh water. • Break a bottle of the most expensive wine or single-malt Scotch over the bow (the gods and goddesses of the sea are not impressed by cheap hooch). • Whisper the new name so as not to alert the demons. • Promise the gods and goddesses of the sea that you will sin no more.
The Compass Rose Review is a blog written by Peter H. Spectre, editor of Maine Boats, Homes & Harbors magazine, former editor of WoodenBoat magazine, former editor of International Marine Publishing Company, author of the annual Mariner's Book of Days, A Mariner's Miscellany, and other books. Click here to visit Compass Rose Review.
Copyright © 2007, Peter H. Spectre.
Share this article:
Digital Edition Available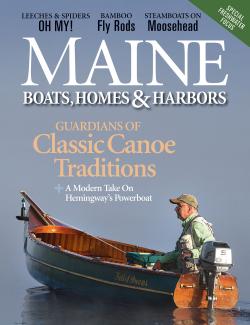 Can't get to the store to buy your magazine? We deliver the stories of Maine's coast right to your inbox. Sign up here for a digital edition.