Schoodic Institute at Acadia National Park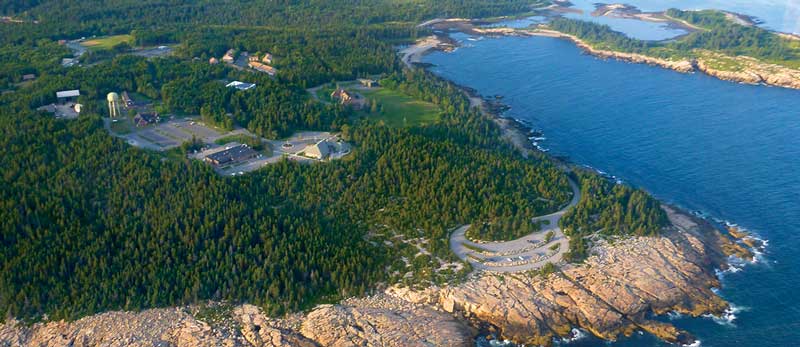 The miles of shoreline at Schoodic Point in Acadia National Park seem hard and fixed in time, but closer attention reveals a dynamic place reflective of a changing world. Rising sea levels and storms reshape the coast, eroding cultural sites and building new beaches of sand and rounded stone between hard granite cliffs. Warming temperatures and changing ocean chemistry are altering the food web that supports everything from periwinkles and rockweed to lobster and whales. Seasonal rhythms are shifting. The great tide of song birds flying north floods the forest earlier each spring, and shorebirds and hawks on their southerly migration appear a bit later.
The gulls always seem to be around, chasing the fishing boats that work the surrounding waters, and loafing on the rocks at Schoodic Point. In August, they pick at the Jonah crabs that wash ashore; in late fall, they have a habit of dropping mussel shells on the road. The gulls may or may not be responsible for the empty urchin and clam shells that litter the mossy edge of the forest. The forest at Schoodic Point is 2,000 acres of spruce, fir, and jack pine—trees more suited to the cooler climate of past centuries.
Ecologists at Schoodic Institute pay attention to these patterns, which raise many questions. (What causes the influx of dead crabs each summer? Why do gulls only drop mussels on the road in fall? Are the numbers of gulls changing over time? What trees will thrive in the future forest of Acadia?) With Schoodic Point as their field station, Hannah Webber, Seth Benz, and Peter Nelson, specialists in marine, bird, and forest ecology respectively, use close monitoring and focused experiments to study changes in biological diversity and the environment.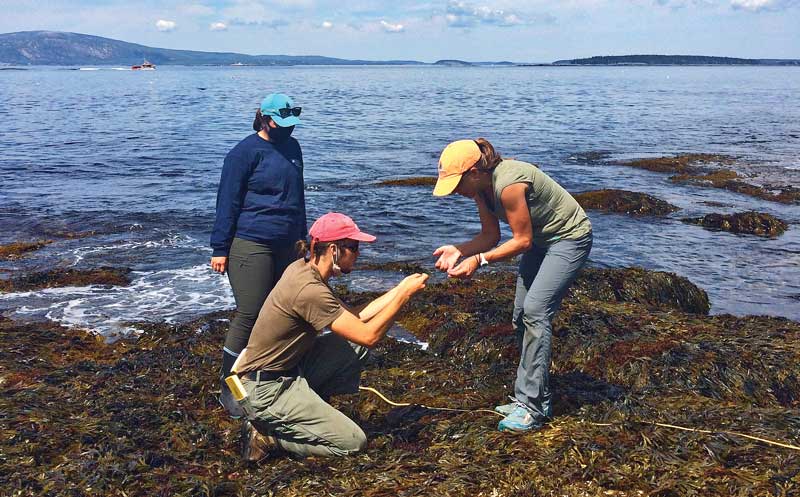 Marine Ecology Director Hannah Webber and helpers survey in the intertidal zone.
Schoodic Institute was founded in 2004 as part of a multi-year, community-based process to create a new future for the peninsula in response to closure of the U.S. Navy Base at Schoodic Point. The campus, returned to the national park, is today the largest of 18 Research Learning Centers in the National Park System, supporting research and education in and beyond Acadia.
Examples of current science:
Developing a way to measure rockweed along the coast of Maine using remote sensing, aerial photography, and field monitoring
Assessing the current status of forests from Maine to Virginia, using 12 years of data on tree growth
Tracking the migration of seabirds past Schoodic Point each summer and fall
Helping national park managers decide how and when to resist, adapt to, or direct the impacts of climate change
Working with high school students and fishermen to evaluate clam flat restoration techniques.
As things change across ecosystems, from sea to trees, Schoodic Institute scientists and other researchers working in Acadia try to keep up, but they can't do it alone. They need help and support from land managers, those whose livelihoods depend on the sea and the trees, and the next generation of stewards. Therefore, Schoodic Institute pays equal attention to broadening participation in and awareness of science. Education specialist Sarah Hooper engages students and volunteers in understanding and addressing environmental problems. Emma Albee and Catherine Schmitt, Schoodic Institute specialists in science information and communication, help manage and tell the stories of some 80 research projects that take place in Acadia each year.
---
Learn more and support the work of Schoodic Institute scientists and storytellers at schoodicinstitute.org
---
This page is sponsored by the Ocean Ledges Fund of the Maine Community Foundation with the goal of supporting education and conservation.