Great Schooner Race Week
Great Schooner Race Week - The Heritage
By Capt. Doug Lee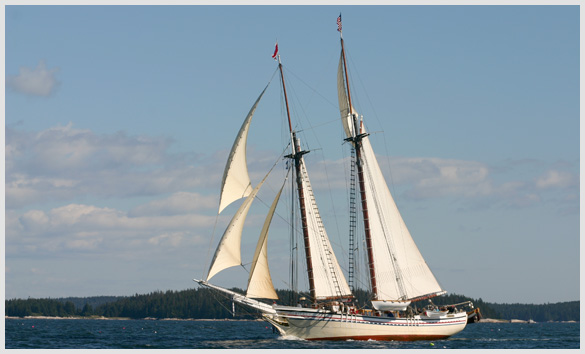 Heritage
Photo by George Kovarik
Monday, June 30: Rain last night and this morning, woke up to a foggy day. We got under way late and sailed up the bay to raft up in Holbrook Cove with the fleet for the night before race day. Moved our raft of four schooners a short distance in the night. 24 miles; 8.5 knots max Tuesday, July 1, Great Schooner Race Day: Started out slowly with fog early and calm winds. Became a very nice day with an exciting finish to the race. We came in second by 10 seconds. Then we continued sailing down Eggemoggin Reach and under the Deer Isle Bridge. Sailed to anchor with the fleet at the harbor off
WoodenBoat
magazine's facility. Saw porpoise, osprey, and eagles, also seals. 29 miles; 5.2 knots max Wednesday, July 2 Foggy. Did shore trips in the morning. Got under way with the ebb tide right after lunch. Sailed and pushed down Jericho Bay to "'Lobsta' Island" (Wreck Island) for an evening cookout. Had a great time. Saw seals on the rocks. 13 miles; slow Thursday, July 3 Windy! Strong southerly breeze. Put the topsail up and took it back down several times. Also hauled the side boat (
Archie
) in as we heeled way over in the wind. Beat down Isle au Haut bay and around the bottom of Vinalhaven, then headed up the reach and through Leadbetters Narrows. Then traveled through the Fox Island Thorofare and up the bay to anchor at the west side of Bucks Harbor at supper time. Saw seals, osprey, and an eagle! 51 miles; 11.1 knots max Friday, July 4 Sunny. Morning shore trips and enjoying the quiet on board. Got under way before lunch as a nice south wind came along. Beat down the bay with a fair ebb tide. Late in the afternoon we sailed through Camden Harbor and then on to Cradle Cove for our own 4th of July fun: singing, cannons, and sparklers. Don't forget the kazoos! Beautiful. A clear night with a sliver of moon and lots of stars. Saw lots of seals on the ledges, also porpoise and an eagle. 31 miles today Saturday, July 5 A sunny sail home to the North End Shipyard in Rockland. 15 miles

Several captains from the Maine windjammer fleet have agreed to write about what it's like for them "behind the scenes" while running a passenger schooner. We will post their missives as we receive them. We also recommend that you come back later to read through them all for a sense of what an entire season is like as it unfolds.
Click here
to follow the schooners on their
coastal adventures
.
Click here
for information about the Maine Windjammer Association.
Share this article:
Digital Edition Available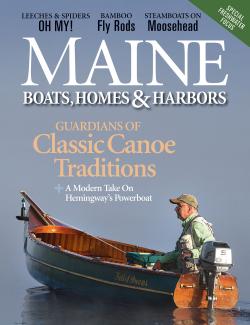 Can't get to the store to buy your magazine? We deliver the stories of Maine's coast right to your inbox. Sign up here for a digital edition.