Adventures - Gizmo - Port Clyde
Gunkholing with Gizmo: Port Clyde
By Ben Ellison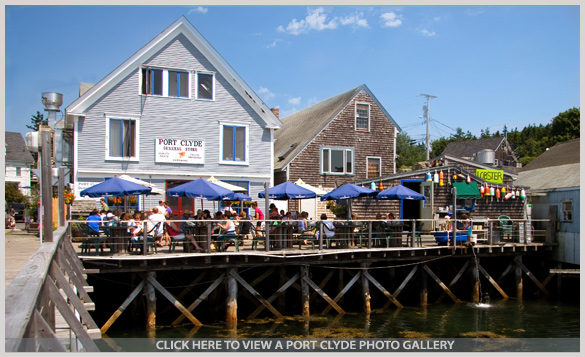 The Dip Net restaurant and the General Store are the focal points of Port Clyde,
near the end of the St. George peninsula. Photo composite by Jamie Bloomquist & Ben Ellison
There's a lot of summertime life in the village of Port Clyde, and summertime traffic too. Indeed, it can be an almost comical comeuppance to glide merrily down sedate Route 131; get excited about the intensity of people, color, art, and boats apparent at its terminus; and then realize that the final side streets are dead ends, the parking spots are filled, and behind you is a string of similarly cornered gawkers. Arriving by boat is apt to be a calmer process, but a good sense of what's what, and where, will make any first visit richer. Which is why I've used Google Earth's splendid satellite photography to create the locator maps below.

On the photo maps, Port Clyde's downtown congestion is vivid. It's a tiny peninsula that serves not only a very active local fishery but also handles traffic to Monhegan and many private islands, including big Hupper across the harbor. There is some room for cars (and dinghies) at the public landing (1), but if you want to ensure a space, call or visit the Monhegan Boat office (2; 207-372-8848). The company runs the harbor's major pier (3), and puts such joy into its ferry service that some make the round trip to Monhegan just for breakfast. Cruisers can anchor at either end of the big harbor or rent a mooring from the Port Clyde General Store (4; 207-372-6543), which also offers fuel, showers, provisions, and hot meals starting at 6 a.m. daily. Save room for the Dip Net Restaurant (5; 207-372-1112), which has evolved from a fabulously funky clam shack to funky fine dining. Oh, the Fry-O-Lator's still working, but I had tuna tartar one evening. When I asked about the fish's origins, the server pointed to a longliner leaving the dock right in front of our table.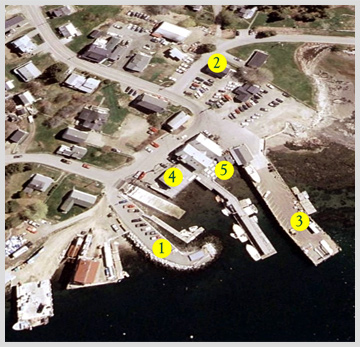 Also downtown are an ice cream shop and numerous galleries, starting with the cooperative just across from the store. You can wander eastward out to the famous Marshall Point Lighthouse and its companion museum (6; 207-372-6450), with a stop along the way to visit the Herring Gut Learning Center (7; 207-372-8677), or perhaps a detour to check out the Harpoon Restaurant (8; 207-372-6304). If touring the harbor, don't miss the passage north of Raspberry Island (9), which is deep and was marked with a private stake when I visited. Boredom is highly unlikely in lively Port Clyde, but should it happen, you can always watch the newbies scramble for parking. Photo Gallery: A visit to Port Clyde, Maine.
Links:
Marshall Point Lighthouse Museum (
www.marshallpoint.org
) Monhegan Boat (
www.monheganboat.com
) Herring Gut Learning Center (
www.herringgut.org
)

Credits: Aerial views based on imagery from Google Earth and Maine GeoLibrary, adapted by Ben Ellison. E-mail Ben (
gizmo@benetech.net
) about restaurants, parks, and the like that he can visit aboard the M/V Gizmo.
Click here
to travel with Ben Ellison and
Gizmo
on other
coastal adventures
on the Maine coast.
Share this article:
2023 Maine Boat & Home Show

Join Us for the Maine Boat & Home Show!
Art, Artisans, Food, Fun & Boats, Boats, Boats
August 11 - 13, 2023 | On the waterfront, Rockland, Maine
Click here to pre-order your tickets.
Show is produced by Maine Boats, Homes & Harbors magazine.