Adventures - Gizmo - Brooklin
Gunkholing with Gizmo: Brooklin
By Ben Ellison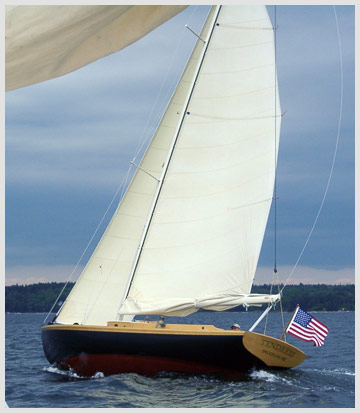 Photography by Ben Ellison
Ah, Brooklin. This peaceful, if boat mad, penisula is fabulously far from Route 1, yet perfectly perched along Eggemoggin Reach, which is the route 1 of Downeast cruising. However, it's not easy for boaters reaching by in a summer sou'wester, or even dallying at one of the many anchorages, to fully understand and access the town's terrestrial treasures. There are, after all, only three dinghy docks, all private, and it's a hike from each to the hamlet's heart. Let's break it down. The epicenter of Brooklin is the intersection (1) of Naskeag Road and Route 175, and my first tip, important for address finding, is that the latter is now called Bay Road to the north and Reach Road to the west. Here you'll find the reliable Brooklin General Store, the cozy Morning Moon Café, and perhaps the most precious public library on the planet. There's also an interesting, if variable, cast of galleries and craft shops spreading from here down Reach to the old school (2)—which also houses Brooklin Marine Supply and Center Harbor Sails —and beyond. But your main goal ashore, I think, should be dinner at the Brooklin Inn (3). The ingredients are local, the cooking excellent, and the prices reasonable (it's open winters too). And don't miss the basement Pub where you might get to hobnob with locals or some of the characters who frequent the WoodenBoat School.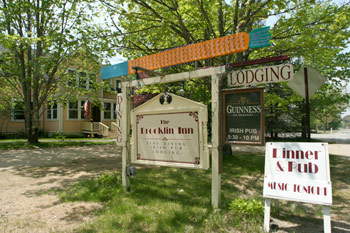 Brooklin Inn, photo by Ben Ellison
The closest—at 3/4 of a mile—dinghy tie up is the Brooklin Boatyard (4), which, while not a marina, permits such use and may also have an available rental mooring. (The yard welcomes gawkers too, and you will gawk.) The Center Harbor Yacht Club (5) reportedly also has moorings and dinghy facilities, though it doesn't have a phone! Then there's the back way from WoodenBoat's waterfront, where moorings are often available. The procedure is to pick up a free one and then go into the dinghy float and settle up with a staff person. It's almost two miles from there to the Inn, but most of it is pleasant walking. Of course the school campus is itself a fascinating visit, as well as a fine example of an early 20th century gentleman's saltwater farm. Note that the inside passage from Center Harbor to the school (see chartlet) is quite manageable, even under sail, and so, with extra care, is the one through Naskeag Harbor, which sports a new half tide pier (7) and a spit of "Maine sand". Many of the local islands also have gritty beaches and are uninhabited; while none is formally public, locals use several freely. Ask around.
www.brooklininn.com
) (4) Brooklin Boatyard (207-359-2236,
www.brooklinboatyard.com
) (6) Wooden Boat School & Publications (207-359-4651,
www.woodenboat.com
)
Roll over numbers to view thumbnails
Credits: Article photos and chart enhancement by Ben Ellison based on NOAA chart 13316. E-mail Ben (
gizmo@benetech.net
) about restaurants, parks, and the like that he can visit aboard the M/V Gizmo.
Click here
to travel with Ben Ellison and
Gizmo
on other
coastal adventures
on the Maine coast.
Share this article:
2023 Maine Boat & Home Show

Join Us for the Maine Boat & Home Show!
Art, Artisans, Food, Fun & Boats, Boats, Boats
August 11 - 13, 2023 | On the waterfront, Rockland, Maine
Click here to pre-order your tickets.
Show is produced by Maine Boats, Homes & Harbors magazine.