Adventures - Gizmo - Malaga Island
Gunkholing with Gizmo: Malaga Island
By Ben Ellison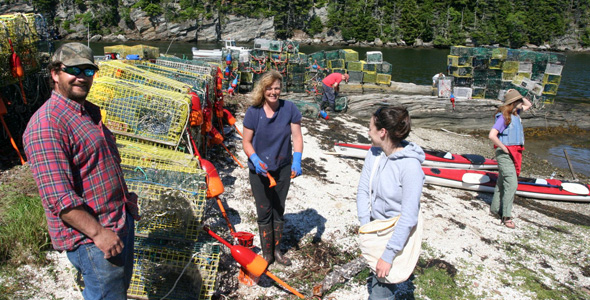 The usual mix on Malaga: lobstermen, visitors, and, out of camera view, archaeologists.
For more about the island's past, see "The Secret ofMalaga Island" by John Gould (Issue 71,Autumn 2002).
MALAGA ISLAND, on the extreme eastern edge of Casco Bay, may be the centerpiece of some extraordinary nineteenth- and early-twentieth-century Maine history, but my visit was so weirdly NOW that many of the parties involved got the giggles. I (proud papa) arrived via Gizmo with my daughter Jesse, who was already deep into her own Malaga research toward a Master of Journalism. So it made sense that she was on a first-name basis with Jimmy and April McKinney. who were using the perfect June day to refresh their lobster gear. All obvious evidence of the famously mixed-race settlement that began here after the Civil War was dramatically destroyed by the state in 1912—the police even dug up the graveyard—but the island is still used as a communal trapstorage facility by locals, some of whom, like Jimmy, are now rather bemused by the hubbub being made over their ancestors.
www.thewatersedgerestaurant.com
, 207-389-1803 (3) Casco Bay Boatworks -
www.cascobayboatworks.com
, 207-389-1300 (4) Sebasco Harbor Resort -
www.sebasco.com
, 207-389-1161, VHF 9
Credits: Chart based on the 1:24,000 topo maps Orrs Island and Phippsburg; 3-D by Memory Map. Article photos and chart enhancement by Ben Ellison. E-mail Ben (
gizmo@benetech.net
) about restaurants, parks, and the like that he can visit aboard the M/V
Gizmo
.
Click here
to travel with Ben Ellison and
Gizmo
on other
coastal adventures
on the Maine coast.
Share this article:
Digital Edition Available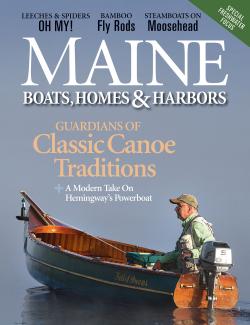 Can't get to the store to buy your magazine? We deliver the stories of Maine's coast right to your inbox. Sign up here for a digital edition.