Gunkholing with Gizmo: Goose Cove
Gunkholing with Gizmo: Goose Cove, Deer Isle
By Ben Ellison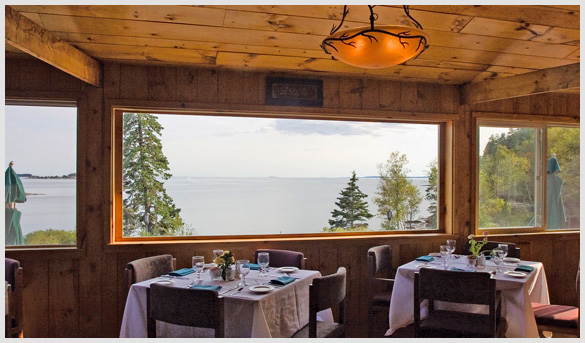 It's hard to beat the view at the new Cockatoo II restaurant, located in the former Goose Cove Lodge.
Photo by Ben Ellison
Friends, I write this on the verge of summer, and let's be frank: We never know how many of our city cousins are going to come up to enjoy Maine summer in all its glory. To those who do visit and/or live here, a plea: we have a coastal economy to support! Put down that keyboard, hammer, or hoe; ready the boat; gather the troops; and venture forth in search of that perfect on-the-wharf steamed lobster, paella, or whatever you fancy. Tip your server well while you are at it. If such venturing forth suggests undue interference with work or other so-called "obligations," I say: Yes, you can! I have a venture to propose. Goose Cove, near the southwest corner of Deer Isle, is a reasonable fair-weather anchorage of multiple pleasures. First there's Barred Island (1), a classic bold button of evergreen and ledge connected to the mainland by a sandy bar during about two thirds of the tide cycle. It's a splendid circum-hike with good footwear, and also the terminus of the Nature Conservancy's Barred Island Preserve, whose mossy main trail (2) undulates over the hump of Stinson Point a half mile or so to the parking area on Goose Cove Road.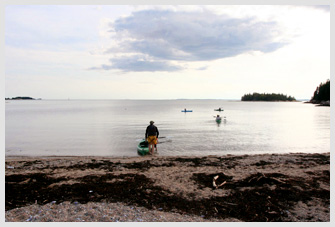 One of the best beaches in the region.
Barred Island to the right.
Photo by Ben Ellison
There's also a high shore trail (3) from the preserve into the property well known as the Goose Cove Lodge, and one of the best beaches in the region (4). Alas, the lodge only exists now as a website (
www.goosecovelodge.com
), be- cause it changed hands rather abruptly early last year, perhaps because we didn't frequent its fine dining establishment (5) sufficiently. We now have a second chance to do our duty, however. This summer, the restaurant will re-open as the Cockatoo II Portuguese Seafood Restaurant and offer a mouth-watering menu seven days a week, 12:00 to 9:00 p.m., until Labor Day, and then into the fall, depending (207-348-2300). Boding well: owner/chef Suzen Carter, who learned her craft in the Azores, is now part of a local fishing family, and her original Cockatoo restaurant—still open on Webb Cove—has an avid, if largely underground, following. She's purportedly so zealous about freshness that she starts her lobster roll with a live crustacean. This takes awhile, but the pair of cockatoos in residence will entertain you, not to mention the stunning view.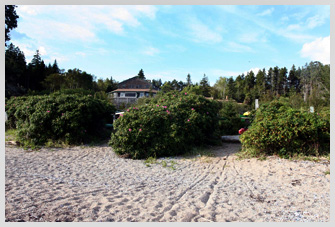 Goose Cove Lodge from the beach.
Photo by Ben Ellison
I have not yet eaten at the new Cockatoo II, but I soon will, and will report on the experience in the comments section you'll find below. There will also be more photographs and navigation detail online. I strongly encourage you to comment on this and
my other online columns
—all for the common good. That's my five-point proposal. Go to Goose Cove, recreate, dine, tip well, and then go online to compare notes. Yes, we can! This message was approved by freelance writer and
MBH&H
Contributing Editor Ben Ellison and the staff of
Maine Boats, Homes & Harbors
magazine.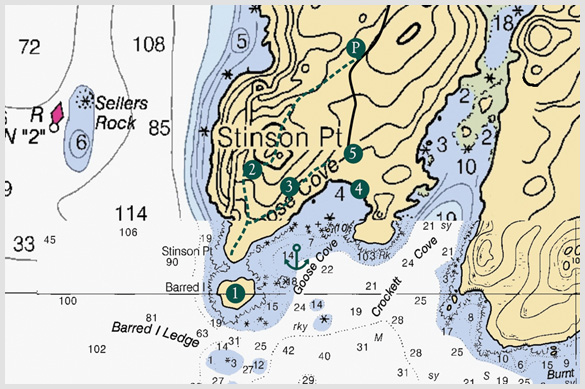 Charlet Key:
1) Nature Conservancy's Barred Island Preserve 2) Barred Island Preserve, main trail 3) Goose Cove Lodge / High Shore Trail 4) One of the best beaches in the region 5) Cockatoo II Portuguese Seafood Restaurant (207-348-2300)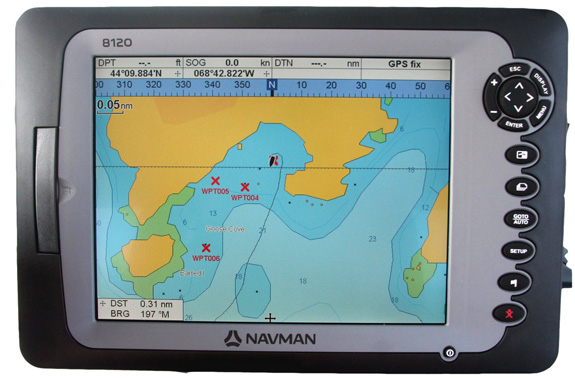 The electronic chart of Goose Cove. Photo by Ben Ellison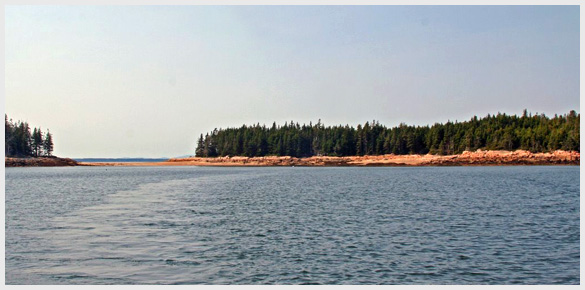 Goose Cove, Deer Isle, Maine. Photo by Ben Ellison

Credits: Chartlet: The southwest corner of Deer Isle boasts a number of delights for the visitor. Based on 1:40,000 NOAA chart #13305 and 1:20,000 #13315, adapted by Ben Ellison. Not for navigation. E-mail Ben (
gizmo@benetech.net
) about restaurants, parks, and the like that he can visit aboard the M/V Gizmo.
Click here
to travel with Ben Ellison and
Gizmo
on other
coastal adventures
on the Maine coast.
Share this article:
Digital Edition Available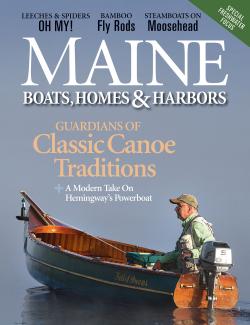 Can't get to the store to buy your magazine? We deliver the stories of Maine's coast right to your inbox. Sign up here for a digital edition.