Extreme Fun at the Maine Boats, Homes & Harbors Show: Paddleboard Jousting
Extreme Fun at the Maine Boats, Homes & Harbors Show: Paddleboard Jousting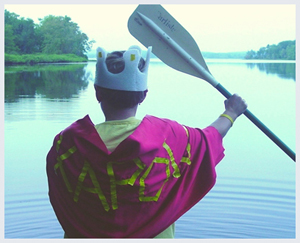 Standup Paddleboard Jousting competitor the Queen of Kapow. Photo courtesy Petra Palmer.
ROCKLAND, Maine—A new take on an old water sport has been cooked up by the producers of the 2012 Maine Boats, Homes & Harbors Show in partnership with
Thorfin Expeditions
. It promises to mix balance, agility, and theatrics, and to have onlookers shouting "Kapow! Bonk! Splash!" It's Maine's first-ever annual stand-up paddleboard jousting tournament, and it will be held on Saturday, August 11 at 1:30 p.m. The wildly popular sport of stand-up paddleboarding (SUP) will be the star of this watery battle. This is yet another example of how "Tradition Shapes Innovation" at the MBH&H show, since the event is a modern twist on yesteryear's canoe jousting, which was done by campers across Maine from atop the gunwales of their canoes. In this modern-day version, 10 pre-selected competitors will "go all gladiator" in costumed regalia, using foam-topped jousting paddles to knock each other into the ocean. The winner will be the last one standing after the waves have settled. The colorful participants have chosen their battle names: Aquaphobia, Duke of Dunkington, Freelance A Lot's Ex-Wife, Lady Capsizeya, Lady Jousting Janet the Justly Jubilant, Lady Paddlebeard, Lord of the Board, Queen of Kapow, The Staminator Stamina Stam-Bam, and Surf Swami. Behind those pseudonyms will be some familiar local faces, including Dan Bookham, Skip Bates, Jessica Stammen, and Jim Gamage. (Others have requested that their real names not be disclosed to protect what little reputations they have left.) Rumor has it that a wild-card competitor might make a special guest appearance.
Thorfin Expeditions
will provide boards, poles, and safety equipment for the competition, and will have information available about SUP rentals, lessons, and tours up and down the Maine coast on lake and coastal waters. "Summer in Maine is all about having fun on the water, whether that's in a boat or on a board," said show organizer John K. Hanson, Jr., "so we're rolling all the wackiness of the World Championship Boatyard Dog® Trials into this family-friendly event that blends the absurd with the athletic." A trophy that defies description will be awarded to the overall winner. The "Most Inspired Jouster" will receive a subscription to Standup Journal magazine, honorable mentions will go to the Best Splash and Best Costume, and all participants will be able to refuel with a tropical delight from the Smoothie Shack. For more information about the show, its exhibitors, and collaborative community events, visit
www.maineboats.com/boatshow
. Show hours: Friday and Saturday, August 10 and 11, 10 a.m.-6 p.m.; Sunday, August 12, 10 a.m.-4 p.m. Admission is $12 at the gate, under 12 free. No pets except legitimate service animals will be allowed on show grounds—please leave them at home. Maine Boats, Homes & Harbors is very pleased to acknowledge the following sponsors of the 2012 show:
Awlgrip North America
,
Bangor Savings Bank
,
The Bark,
Custom Float Services
,
Fixtures…Designer Plumbing Showroom
,
Jaret & Cohn Real Estate
,
Knight Marine Service
,
Loyal Biscuit Co.
,
Planet Dog,
Sea Bags
, and
Yachting Solutions/Cannell,
Payne & Page. The Maine Boats, Homes & Harbors Show was founded in 2003 by Maine Boats, Homes & Harbors magazine. Held annually during the second weekend of August in Rockland, Maine, the show attracts thousands of attendees from all over the country and world. Maine Boats, Homes & Harbors, "The Magazine of the Coast," is celebrating its 25th year. Noted for eclectic award-winning coverage of all aspects of coastal living, the magazine covers everything from maritime matters and natural history to boats, homes, fine art, and food. The magazine has loyal subscribers around the world and more than 100,000 total readers. An award-winning online edition at
www.maineboats.com
is filled with original content, photo galleries, tide charts for Maine and New Hampshire, guides to products and services, and Local Knowledge™ to help visitors enjoy the Maine coast. Maine Boats, Homes & Harbors, P.O. Box 566, Rockland, ME 04841; 207-594-8622; 800-565-4951.
www.maineboats.com
IMAGE CREDIT: Standup Paddleboard Jousting competitor the Queen of Kapow. Photo courtesy Petra Palmer. Media Contact: Marnie Read
news@maineboats.com
207-266-9381