Maine Boat & Home Show to showcase the state's best boats
Maine Boat & Home Show to showcase the state's best boats
Monday, August 6th 2018
July 31, 2018 ROCKLAND, ME — Whether it's to look at boats, or to look for a boat to buy, the Maine Boat & Home Show on the Rockland waterfront August 10-12, 2018, is the place to be. The show, which is the largest in-the-water boat show north of Boston, will feature more than 100 craft, large and small, luxurious and down-to-earth, power and sail, displayed both on land and in the water. Advance tickets available online.
"It's an absolutely wonderful array this year," said John K. Hanson, Jr., publisher of Maine Boats, Homes & Harbors magazine, which produces the event. "Maine's boatbuilders are among the finest in the nation, and here's proof. In my mind, no one boat is the 'star of the show,' they all are. Your ticket gets you aboard many of the boats, and you can even schedule a test drive in Rockland Harbor from the Demo Dock."
New models making their Maine debut at the show will include hull number one of Hinckley's Picnic Boat 40, launched less than a month ago.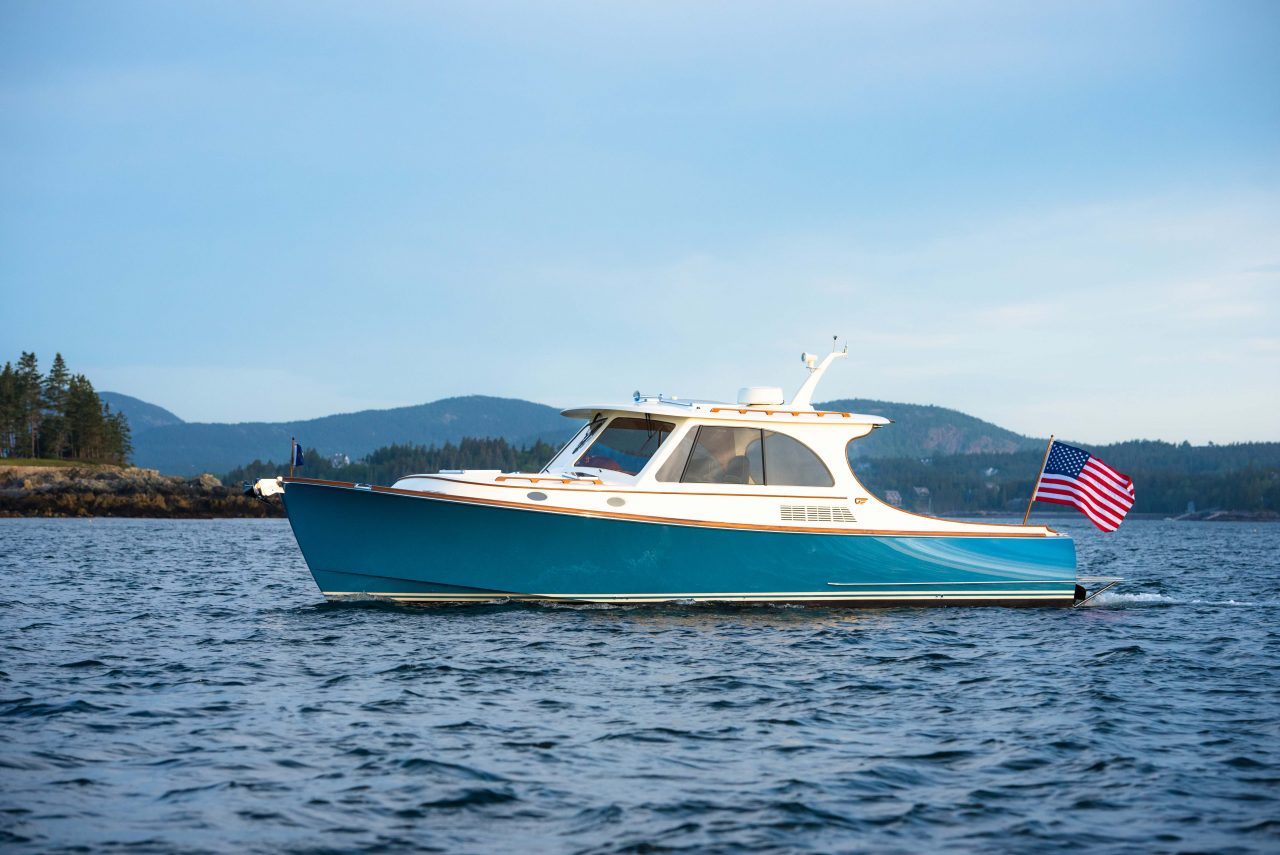 East Coast Yacht Sales will showcase the distinctive Axopar line of Finnish-designed sport boats, and Palm Beach Motor Yachts will present a Palm Beach 55, which comes with a two- or three-cabin layout and a tender garage aft.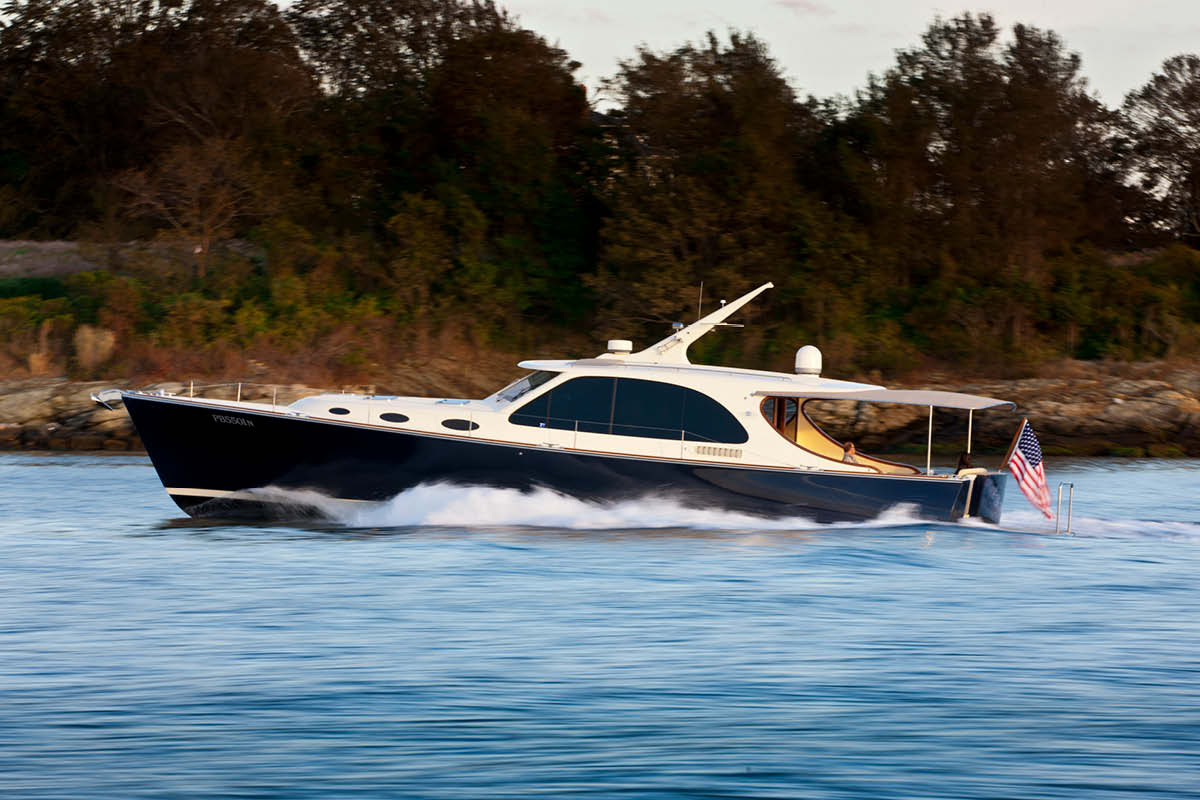 In addition to boats that are for sale, the show will include a wide variety of privately owned small craft in Buoy Park at the Small Boat Love-In. A series of larger "Icon" working boats will visit the docks, including the Maine's Seacoast Mission's Sunbeam V and Maine Maritime Academy's R/V Friendship. See below for more information on these special events (included in the ticket price).
Powerboat aficionados will have plenty from which to choose. Speed demons might like the center-console, twin-outboard-powered Pursuit S288, or the Cutwater Boats C-28, a capable open-water cruiser. Both will be exhibited by Yarmouth Boat Yard, which is the newly commissioned Cutwater dealer for Maine. Southport Boats will showcase its go-fast center-console 272.
The Hinckley Company's new Picnic Boat 40 combines familiar rakish lines and twin-jet power with a new epoxy-Kevlar-carbon-fiber hull that's substantially stronger and lighter than earlier versions.
On the Demo Docks, prospective buyers can test-drive South Port Marine's new Everglades 360 LXC, a passenger-focused weekender with cruising conveniences, all based on the blue-water-capable hull that has made Everglades fishing boats popular.
The crew from East Coast Yacht Sales will introduce the new Axopar line of Finnish-designed sport boats to the Maine market. They'll have 28- and 37-foot cabin models of these all-weather vessels, marked by innovative interior features like helm seats that convert to a dinette or a double berth.
Lovers of vintage yachts will enjoy the lavishly restored wooden Bunker & Ellis 36 Vera Lee, a downeast cruiser presented by Classic Boat Shop. Vera Lee epitomizes the practical grace of the classic wooden lobsteryachts for which Maine is renowned. Then there's the modern take on vintage. Hylan & Brown Boatbuilders will showcase one of its retro-looking-but-new custom builds, a sleek power cruiser named Gatsby that was designed by Doug Hylan.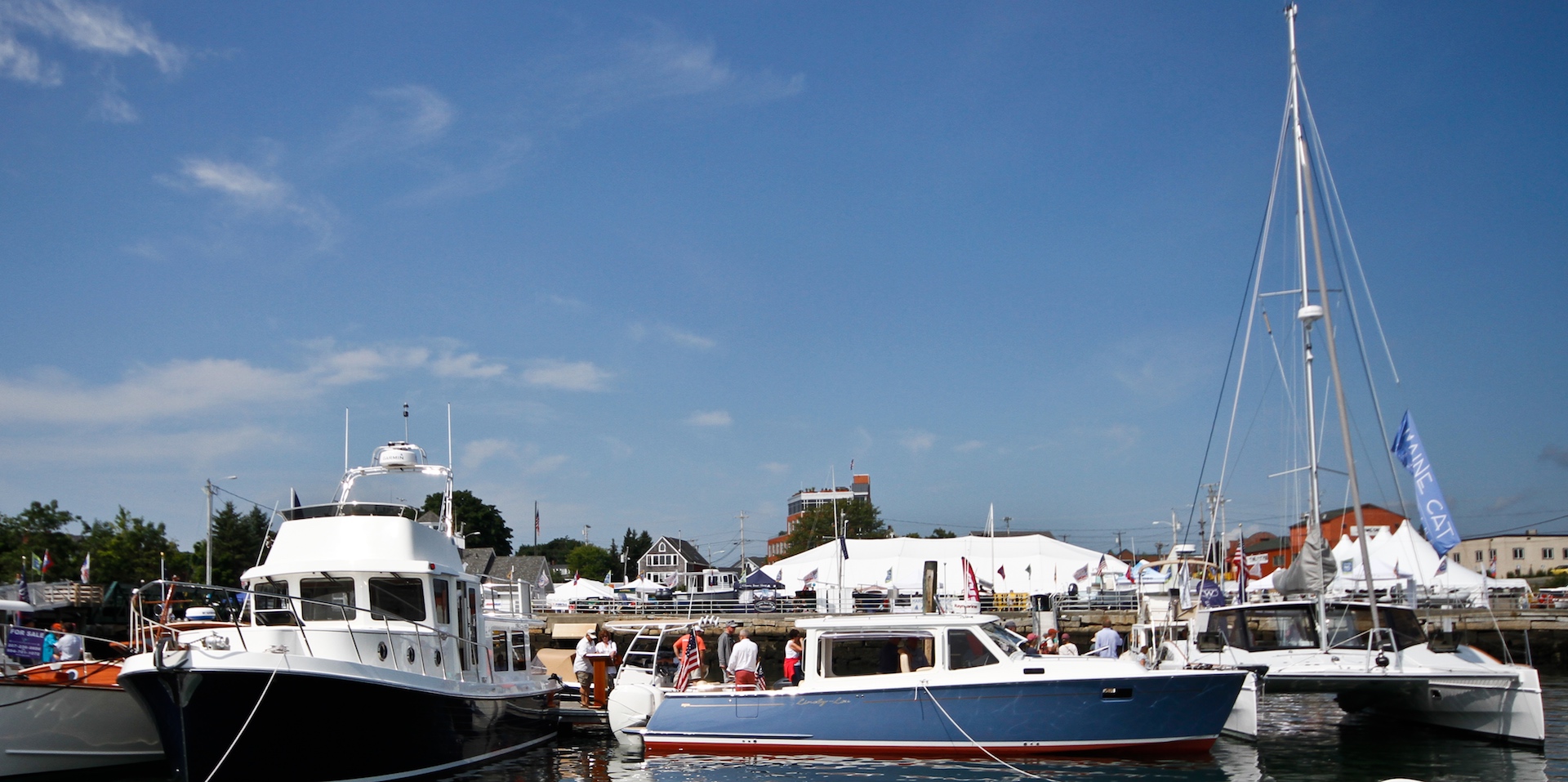 Speaking of vintage, Owls Head Transportation Museum will display a pair of high-end early-20th-century wooden pleasure craft: an exquisite 30' L.E. Fry speedster with distinctive "razor case" hull and a 28-foot Gar Wood triple-cockpit runabout. These boats (and more) will be star attractions at the museum's annual New England Auto Auction on August 15-18.
From Lyman-Morse Boatbuilding comes a sturdy yet luxurious Grand Banks Europa. Another solid cruising option is the Wilbur 34 Sea Dragon from Wilbur Yachts. Moose Landing Marina's section of the docks will be home to a veritable fleet of Ranger Tug trawler-style boats ranging from 21 to 33 feet.
Back Cove's new Downeast 37 will be on display in the DiMillo's Yacht Sales section of on the docks. The DE 37 features a spacious, efficient layout with single-level cockpit and helm deck areas that bring indoor and outdoor spaces together. A Sabre 42 will more than round out the DiMillo's display.
In the water, Yachting Solutions will have a speedy deep-V Hunt 32 center-console model. They'll also bring a Beneteau Gran Turismo 40, which blends sporty handling with practical cruising accoutrements. The boat features a spacious 2-cabin layout and lots of room for lounging and entertaining.
Bamforth Marine will feature a Maritime 233 Defiant and a 189 Defiant, and Buzzards Bay Yacht Sales plans to bring a Steiger Craft 255, a sturdy day-trip/fishing machine.
On the brokerage front, Gray & Gray will offer a magnificent pair of flybridge cruisers: a Holland 38 outfitted for extended trips, and a recently re-done Stanley 36 built by John Williams with accommodations for four.
For those who prefer sail power, long-time exhibitor Classic Boat Shop will have one of its ever-popular and classy daysailers, the Pisces 21, on the seawall. New exhibitor Sebago Sailing School will showcase speedy Hobie Cats and the Mirage Drive line of watercraft. If one notices a sailboat that has "dressed ship" to the nines, that could be Maine Flag Company's Ericson 34, a racer/cruiser that the company uses to display its products and to get out on the water.
Larger sail will be on hand too. Morris Yachts will bring a sleek and swift M42 daysailer, while Bremen's Maine Cat is set to showcase its Maine-built 38' catamaran, which combines speed and cruising comfort.
The docks will be chock-full, plus there will be boats displayed all over the show grounds. They will include the Apprenticeshop's offerings, the Landing School's LS17, a "sneak box" duck hunting boat from Middleton Boat Works, North Atlantic Inflatables' usual array of tenders, Pemaquid Marine's new center-console version of the renowned Banks Cove 22, and a surprise from Rocknak Yacht Sales.
Ron Rantilla will bring at least one of his front-rowed tenders, Salty Boats of Maine will have a varied display, and there'll be a Wasque from Tenants Harbor Boat Yard. New exhibitor Wild Duck Boats will be showing a selection of Allied Boats. And last alphabetically, but certainly not least, Yachting Solutions will have a dedicated tent (Tent H) in which to display all manner of interesting craft in addition to those they will have on the docks.
Special Boat Events: Small Boat Love-In This 'totally groovy' gathering of privately owned power, sail, and human-powered boats under 22 feet in length will be in Buoy Park all weekend. A big fleet of little boats is expected, power and sail, old and new, from Corsons to Whalers, and hand-made canoes to go-fast fiberglass center-consoles. The Traditional Small Craft Association will be represented, and "the boat that mapped the Maine Island Trail" will also be on display. Visit maineboats.com/boatshow/small-boat-love-in for more information (deadline to sign up is August 6). Privately owned boats of any kind or vintage are welcome but must sign up ahead of time. Sponsored by USHarbors.com.
Icon Boats (Dock F)
Friday: The 72-foot-long Maine Seacoast Mission Ship Sunbeam V will be on the Icon Dock. Built by Washburn & Doughty and launched in 1995, the boat is equipped with state-of-the-art telemedicine equipment and has a salon that serves as a meeting place for fellowship, meals, and meetings. The Sunbeam also sometimes hosts weddings and funerals and serves as an icebreaker. MSM is launching a refit campaign for the vessel.
Saturday: Tour Maine Maritime Academy's R/V Friendship, a 49-foot ship equipped with side-scan sonar, a trawl winch, a science winch, an A-frame, and an otter trawl. Marine Biology, Marine Science, and Small Vessel Operations majors use the vessel for classes and research.
Lobsterboat Sunday: Visitors can see one of the oldest lobsterboats around. Built in 1900, the Friendship sloop Blackjack was just relaunched by Rockland's own Sail, Power & Steam Museum. It will be paired with a modern fishing machine, the Osmond 49 Claire Elizabeth.
Nuts and Bolts: 16th Annual MAINE BOAT & HOME Show (formerly the Maine Boats, Homes & Harbors Show) August 10-12, 2018, Harbor & Buoy Parks, Rockland Held annually on the second weekend in August on the waterfront in Rockland, the event attracts thousands of discerning attendees from all over the country and world. The three-day event is Maine's only in-the-water boat show, and the largest north of Newport, Rhode Island.
Admission: Each $15 Adult Ticket is good for all three days (kids under 12 always get in free).
Special Access Passes, which include FREE parking and other perks, are also available. Gates open at 10 a.m. daily. For more information and to purchase tickets, visit maineboats.com/boatshow or call 800-565-4951.
The show was founded in 2003 by Maine Boats, Homes & Harbors magazine.
The show appreciates the support of its fine sponsors: Awlgrip/Interlux, Bangor Savings Bank, Bell's Furry Friends Photography, Epifanes, Journey's End Marina, LCI Fiber Optic Networks, Loyal Biscuit, Maine Boats, Homes & Harbors magazine, Rock Harbor Brewing, and US Harbors. The support of the City of Rockland, the Rockland Main Street program, and West Bay Rotary is also much appreciated.