Twelfth Annual Show Draws Crowds, World Champion Boatyard Dog Crowned
Twelfth Annual Show Draws Crowds, World Champion Boatyard Dog Crowned
Thursday, August 14th 2014
For immediate release - August 14, 2014
Maine Boats, Homes & Harbors News
Photos of Gatsby courtesy Debra Bell, Bell's Furry Friends Photography
Twelfth Annual Show Draws Crowds, World Champion Boatyard Dog Crowned
Rockland, Maine—Attendees at the 12th annual Maine Boats, Homes & Harbors boat and home show enjoyed three straight days of sparkling summer weather on the waterfront in Rockland the second weekend in August. They came from all over to admire the incredible talents on display: gorgeous custom-built power and sailboats; elegant bespoke furniture; stunning fine art and jewelry; cutting edge technology; solid marine gear and engines; efficient alternative energy systems; and more. Special exhibits included the "Genius of Herreshoff" tribute to the Herreshoff 12 ½ and its many siblings and offshoots, a "Smart, Small Homes" section complete with pallet house and timberframe options, and the "Hall of Fame" docks where classic sheerlines were on display. A broad range of nautical and home exhibitors from real estate to outdoor furniture to antiques and home wares, including a "Maine Made: America's Best" section was housed in the largest tent the show has ever utilized. Fine furniture makers, custom cabinetry shops, decorative items, kitchen and bath fittings, fine jewelry, crafts, and artwork were sheltered under tents as well, while other boat and home exhibitors from dinghies to scooters to AWD vehicles to a portable sauna were arrayed outside around the show grounds. As always, Sunday morning got off to a rambunctious start with the ever-popular World Championship Boatyard Dog® Trials. At the conclusion of the light-hearted competition, the newly crowned Maine Lobster Festival Crown Princess Samantha Greer Dienesch-Calamari of Owls Head awarded barking rights to the new World Champion Boatyard Dog: Gatsby, a rare, "flying" chocolate Lab from Scarborough. Gatsby edged out the competition by acing the mandatory parts of the contest with ease, then launching into a series of incredible high-flying jumps—so high did she fly that she needed to wear goggles between leaps. Among the other competitors, Polly was also an amazing leaper. Sadie Rose's routine was wonderful, but apparently her dog watch had stopped, so she went well over the time limit. She did wow the crowd when she took it upon herself to jump in and "rescue" Bavini, the youngest competitor. Bavini magically made 12 treats disappear, no easy feat with a puppy-sized belly. Sandra Bee's sultry routine and costumes caught everyone's attention. Last year's champ, Ruffles, gave it her all to defend her title. She climbed in and out of the tippy dinghy 12 times in honor of the show's 12th year.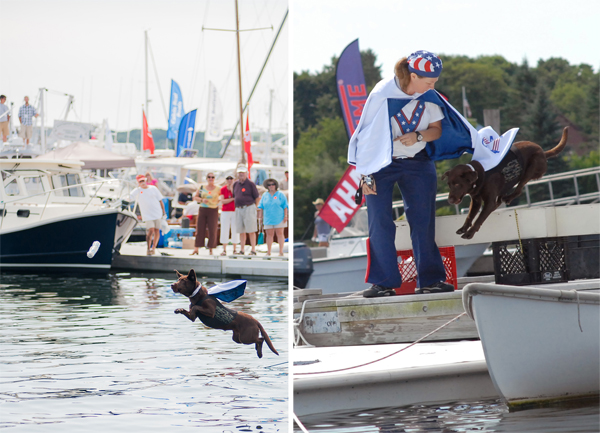 As winner, Gatsby will be featured in the Winter issue of
Maine Boats, Homes & Harbors
magazine, since the popular Boatyard Dog® column in each issue is where all this silly fun got its start. She will also keep the cherished revolving "Pup Cup" trophy for one year, and will be treated to a private photo shoot with Bell's Furry Friends Photography of Hermon, Maine. Since everyone wins at the trials, all the competitors received an assortment of doggy goodies provided by Loyal Biscuit and packed in a custom-made bag from Sea Bags of Portland. Throughout the weekend, live music provided the backdrop for the food court area. Diners feasted on seafood, Thai food, healthy food, and food cooked by Rockland's firefighters. There were hamburgers and hotdogs, gyros and falafel, wraps and sandwiches, ice cream and baked treats. At the Kids' Activities Area, a good time was had by young and old, proving that there really is something for everyone at the Maine Boats, Homes & Harbors Show. Maine Boats, Homes & Harbors is very pleased to acknowledge the 2014 show sponsors: Awlgrip/Interlux, Bangor Savings Bank, Bixby & Co., Custom Float Services, Dock Works, Epifanes, Fixtures Designer Plumbing Showroom,
Maine Boats, Homes & Harbors
magazine, Maine Made, and US Harbors. The support of the City of Rockland, the Rockland Police Department, The Pearl Restaurant, and the West Bay Rotary were also much appreciated. The Boatyard Dog Trials lead sponsor was Custom Float, supporting sponsors were Bell's Furry Friends Photography, Loyal Biscuit Company, and Sea Bags. The judges' boat was a center-console Parker 1801 provided by Yarmouth Boat Yard. The Maine Boats, Homes & Harbors Show is held annually during the second weekend of August in Rockland, Maine (2015 dates will be August 7-9), and produced by
Maine Boats, Homes & Harbors
magazine. The show attracts thousands of attendees from all over the country and world. Contact Information: Maine Boats, Homes & Harbors, P.O. Box 566, Rockland, ME 04841; 207-594-8622; 800-565-4951.
www.maineboats.com
Media Contact: Stacey Palmer, Show Manager 207-594-8622
showinfo@maineboats.com