Rockland Show to Honor the "Genius of Herreshoff"
Rockland Show to Honor the "Genius of Herreshoff"
Monday, July 14th 2014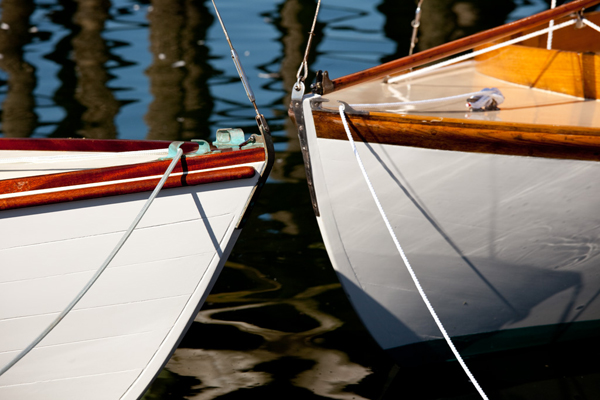 Genius of Herreshoff
ROCKLAND, Maine: It's no secret that Maine's harbors are filled with lovely boats. Maine's boatbuilders have always had an eye for a graceful sheerline and even Maine's fishing fleet has a certain flair. But where did that "look" come from? There have been many influences, of course, but one name comes quickly to mind: Herreshoff. The family's influence on the
America's
Cup is legendary, but with "The Genius of Herreshoff," the annual Maine Boats, Homes & Harbors Show (August 8-10, 2014) will pay special tribute to a much smaller creation, the Herreshoff 12½. This much-beloved daysailer, which turns 100 years old this summer, has influenced many offspring: the fiberglass Bullseye (a 12½ with a little cuddy); the Haven 12½ (the Joel White-designed centerboarder); the Paine 14 (a new creation from Chuck Paine); the Pisces 26 (by Classic Boat); and Herreshoff designs re-imagined by the likes of Bristol Boat Co. and Cape Cod Shipbuilding. Examples will be on display at the show, from a sprinkling of classic Herreshoff 12½s in wood and glass to some equally lovely siblings, such as the Buzzards Bay 25 and the Newport 29. As always, the show docks will be filled with beautiful sail and powerboats designed and built by the finest craftsmen in the business. What should not be overlooked are the amazing smaller vessels also on display throughout the show: rowing craft, kayaks, outboard boats, and paddleboards. These can fit into an average budget, be stored in a garage and transported atop a car, and look good doing it. There'll be boats on land and in the water, plus several exhibitors will be bringing an assortment of demonstration boats, so show attendees can try some of their favorites on for size. Come meet the builders and owners of boats small and large, glass and wood, Herreshoff-influenced and outside the box. In addition to all the great boats and wonderful, top-quality things for the home, the show offers up a plateful of fun. Visitors can enjoy delicious Maine food, including seafood, ice cream, BBQ, and hot dogs. Speaking of dogs, and fun, the lighthearted World Championship Boatyard Dog® Trials will be held on Sunday morning. Spectators can help their favorite competitor win the coveted Pup Cup by cheering madly from the seawall. (Please note: The six competitors have already been chosen; no other pets or animals are allowed on show grounds.) There will also be live music all weekend long (a jazz trio, a ukulele band, a brass ensemble), Penobscot Marine Museum will have loads of fun things for young sailors to make and do in the Kids' Activity Area, and kids of all ages can watch a house being built out of recycled wood pallets in the "Small, Smart Homes" area. The 2014 Maine Boats, Homes & Harbors Show will be held August 8-10 on the waterfront in Rockland, Maine. Gates open at 10 a.m., tickets are $12, children under age 12 get in free. Maine Boats, Homes & Harbors is very pleased to acknowledge the following sponsors of the 2014 show: Awlgrip/Interlux, Bangor Savings Bank, Bixby & Co., Custom Float Services, Dock Works, Epifanes, Fixtures Designer Plumbing Showroom,
Maine Boats, Homes & Harbors
magazine, Maine Made, and US Harbors. The support of the City of Rockland, Sea Bags, Loyal Biscuit Company, and Bell's Furry Friends Photography is also much appreciated. For more information and a full list of exhibitors and activities, visit
http://www.maineboats.com/boatshow
Background: The show was founded in 2003 by Maine Boats, Homes & Harbors magazine. Held annually during the second weekend of August in Rockland, Maine, the event attracts thousands of discerning attendees from all over the country and world. Hours: Friday, August 8, 10 a.m.-6 p.m.; Saturday, August 9, 10 a.m.-5 p.m.; and Sunday, August 10, 10 a.m.-4 p.m. Admission is $12 at the gate, under 12 free. Advance tickets are available: call 800-565-4951 or email
showinfo@maineboats.com
. Please note: no strollers are allowed on the docks and no pets are allowed on the show grounds. "The Magazine of the Coast," Maine Boats, Homes & Harbors is now in its 27th year. Noted for eclectic award-winning coverage of all aspects of coastal life, the publication covers maritime matters, boats, homes, fine art, and food. The magazine has loyal subscribers around the world and more than 100,000 total readers, and an award-winning companion website (
www.maineboats.com
) filled with original content, photo galleries, and resources to help visitors enjoy the Maine coast. Contact Information: Maine Boats, Homes & Harbors, P.O. Box 566, Rockland, ME 04841; 207-594-8622; 800-565-4951.
www.maineboats.com
Media Contact: Stacey Palmer, Show Manager 207-594-8622
showinfo@maineboats.com