Just Launched: Watch Hill 15
built by Artisan Boatworks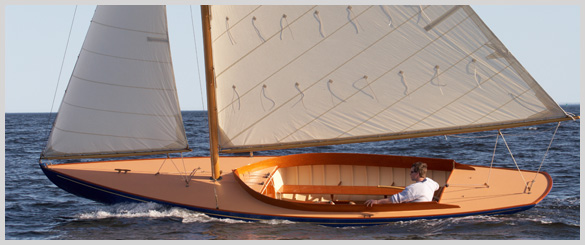 The Herreshoff Watch Hill 15 built by Artisan Boatworks and featured in Issue 101 of
Maine Boats, Homes & Harbors
magazine.
Click here
or scroll down to view a video and more images. Photograph by Jamie Bloomquist
Launch Details:
Boat Design:

Watch Hill 15

Specs:

LOA 24' 6", LWL 15', Beam 6' 8", Draft 2' 3" board up
and 5' 6" board down. Sail Area 330 sq. ft.

Built by :

Artisan Boatworks

Contact:

410 Main Street
Rockport, ME, 04856
Phone: 207-236-4231

Launch Date:

May 14, 2008

Launch Site:

Camden, Maine
Particulars:
The Watch Hill 15: a modern variation on the 1922 variation on the 1898 E-Boat, more commonly known as the Buzzards Bay 15. This new boat was built rather conventionally but using the West System approach. It is single-planked and the appearance inside is that of a carvel-planked wood boat. The exterior is epoxied in such a way as to minimize maintenance. Builder Alec Brainerd worked with the owner, an architect from Vermont and Nantucket, to customize the vessel somewhat. The front bulkhead was moved forward one frame-bay; that allowed a better doorway into the forward compartment, as well as a more commodious cockpit. Evidence indicates the boat will benefit from weight moving forward in order to depress the bows a little. There are airtight compartments both forward and aft, making for an unsinkable boat. That's a great thing for a light, (only 2,200 lbs) somewhat tender, lively boat with a non-self-bailing cockpit. To read more about this boat, see Art Paine's "Off the Drawing Board" column in Issue 101 (Boat Show Issue) of
Maine Boats, Homes, & Harbors
magazine; on newsstands and in the mail the week of July 21, 2008.
Video:
Click play to view the video feature (with music).
Image Gallery:
image gallery
Information and specifications supplied by the builder. Every effort has been made to ensure accuracy. However, Maine Boats, Homes & Harbors accepts no liability in the event of any errors of fact or omission.