Kemmuna
A trans-Atlantic veteran returns to Maine for a major refit

Launch Details:
Boat Name:

Kemmuna

Specs:

LOA 78', Beam 18', weight 85 tons

Designed by :

Jongert of Holland

Refit by :

Wayfarer Marine

Launched site:

Camden, Maine
Particulars:
Here's the kind of story that helps explain why Maine boatyards have become world famous.
Kemmuna
is a 78-foot steel ketch built in 1994 by Jongert of Holland. The Scottish-based owner is a real sailor's sailor—the boat has competed 14 Atlantic crossings so far.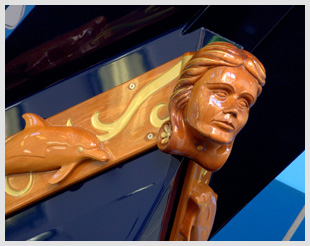 The boat's original Jongert figurehead
was washed away in rough seas, so
it got a new one while in Camden.
The boat first came to Wayfarer Marine back in 2001 for a paint job on the hull, superstructure and masts. The owner was so pleased with the results that when it came time for a major refit,
Kemmuna
crossed the big pond yet again to Camden. This time the boat spent six months in the shed at Wayfarer, being treated to refinishing, refurbishing, and fresh Awlgrip pretty much stem to stern and keel bulb to masthead. All the interior and exterior brightwork was varnished to a fare-thee-well, which took two workers all winter to complete. Another crew ripped up the weather-beaten decking and replaced it with fresh plywood sub-decks and lustrous exterior woodwork by Teak Decking Systems. UPDATE: Aurora Sails & Canvas supplied new exterior upholstery, plus spanking new boom tents. Interior upholstery was designed by Ann Bickford Designs and crafted by Pamela and Jay of "The Workroom." All sorts of additional work was competed, see the captions in the Photo Gallery for details. Suffice it to say
Kemmuna
came to Wayfarer well used and well worn, spent the winter getting lots of boatyard love, and will cast off on the next adventure looking brand-new. This boat won't be lying around waiting for summer, either--it's off to the Pacific in a few weeks, via the Galapagos, and then on to New Zealand and who knows where else!
--Dave Getchell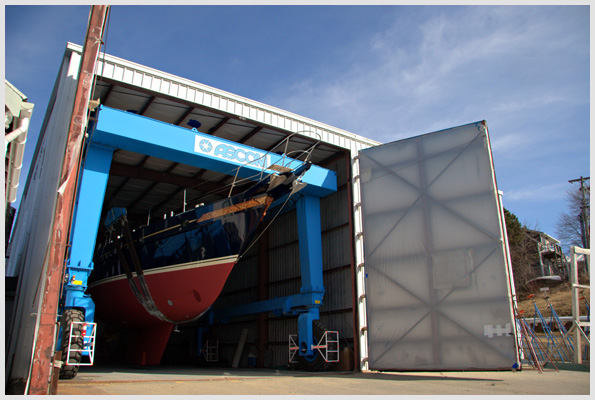 Does this gleaming hull look like it's made 14 Atlantic crossings?
The multi-purpose stern platform includes boarding stairs, a dinghy rack, stern anchor pulpit, and the all-important stainless gas grill.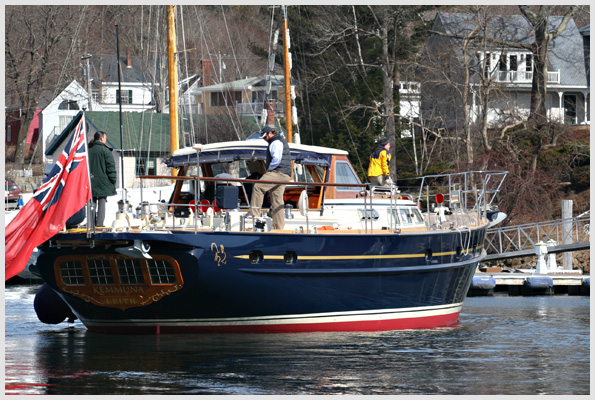 Image Gallery:
Click Play to start the slideshow or click next to browse at your own pace.
image gallery
Information and specifications supplied by the builder. Every effort has been made to ensure accuracy. However, Maine Boats, Homes & Harbors accepts no liability in the event of any errors of fact or omission.