Great American III
2008 Vendee Globe competitor, launched in Portland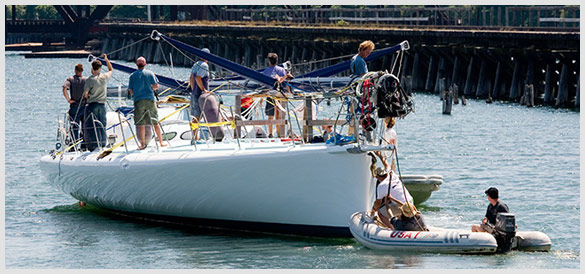 Photographs by Jeff Scher
Boat name:
Great American III
Rebuilder:
Maine Yacht Center 100 Kensington Street Portland, Maine 04103 207-842-9000;
www.maineyacht.com
Launch Date:
August 01, 2007
Launch Site:
Maine Yacht Center, Portland
Particulars: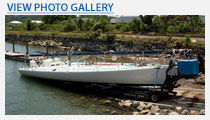 View a gallery of images of the Great American III
Launch (photos by Jeff Scher)
Great American III
, an Open 60 monohull racing yacht, was launched Wednesday, August 1,2007, at Maine Yacht Center in Portland. On Thursday, the 60-foot racing yacht was hauled out of the water and hoisted above Portland Harbor as crews fit the its keel and mast. This wrapped up a 10-month total refit of the
Great American III
at Maine Yacht Center. The vessel's launch was just the beginning of the quest by American skipper Rich Wilson to sail the prestigious 2008 Vendee Globe, a single-handed, round the world event considered the "Everest of Yacht Racing". GAIII is the ONLY monohull boat registered by an American in the 2008 Vendee Globe. Maine Yacht Center has particular expertise in highly technical offshore yachts, especially shorthanded race boats. General Manager Brian Harris has managed numerous single-handed campaigns over the last decade, including several voyages with Skipper Rich Wilson. Wilson, of Marblehead, Massachusetts, has completed several world-record voyages and is founder of the Sites Alive Foundation, a non-profit platform for his ongoing educational program Ocean Challenge. Later in August, GAIII will be hauled out of Portland Harbor with a crane to be measured and certified by the International Monohull Open Classes Association (IMOCA)—the sssociation that certifies all boats for the Vendee Globe.
Great American III
will be re-christened later this month and will undergo several weeks of sea trials in Casco Bay as well as Marblehead, Massachusetts.
image gallery