Just Launched - Anna
Brooklin Boatyard launches a Sparkman & Stephens design
Boat name:
Anna
Designer:
Sparkman & Stephens
Builder:
Brooklin Boatyard Center Harbor Road, PO Box 143 Brooklin, Maine 04616 Phone: 207-359-2236; Fax: 207-359-8871
www.brooklinboatyard.com
Launch Date:
3:30 p.m., Wednesday, June 6, 2007
Launch Site:
Brooklin, Maine
Particulars:
Anna, designed by Sparkman & Stephens, evolved from the firm's storied past. The 56-foot, cold-molded Anna, a cruising yacht, borrows generously from one of S&S's most famous and beloved designs, Stormy Weather, which sprang from the boards of the company in the mid-1930s under the watchful eye of S&S co-founder Olin J. Stephens II. On June 6th at 3:30 pm this modern classic was launched at Maine's Brooklin Boat Yard after nearly year in the build process.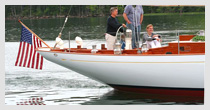 View a gallery of images of the Anna Launch
"With some notable exceptions, Anna is a scaled-up version of Stormy Weather," says S&S President and Chief Naval Architect Greg Matzat. "We've maintained most of the aesthetic elements of the older boat—her sheerline, her tumblehome, the shape of her house, the configuration of her cockpit, her overhangs and transom—and placed them on a modern, efficient underbody." In her day, Stormy Weather represented the latest thinking in racing yacht technology. In 1935, a year after her launch, she won both the transatlantic race and the Fastnet with Olin's brother Rod at the helm. She was an evolution of Stephens's seminal Dorade. Stephens has identified Stormy Weather as one of his favorite designs.

Watch the christening of the SY Anna
Anna's owner wanted a modern yacht with contemporary sailing characteristics, but one with the aesthetics of a classic. She represents the latest thinking in sailing yacht technology. Her hull is a cold-molded combination of mahogany, western red cedar and Port Orford cedar. She utilizes West System epoxy in her construction, which minimizes weight while maintaining the look and feel of a wooden boat. Unlike Stormy Weather's wine-glass-shaped hull, which has a full keel and attached rudder, Anna has a slightly V'd canoe body with a fin keel and bulb and a carbon spade rudder. Matzat says her hull shape will make her exceptionally seakindly offshore and will provide excellent sailing performance. The V'd hull also integrates aesthetically with her classic lines above the water and helps maximize headroom, while keeping the freeboard low. For improved performance, Anna will be rigged as a sloop rather than a yawl. Her mast will be carbon fiber, painted a cream color. She will have rod-standing rigging. She will retain numerous deck details of her famous predecessor large and small, including the style of her Dorade vents, her mainsheet foundations, her winch bases and her unusual off-center, mid-ship second companionway. In order to not spoil her classic look, her anchor hides below decks on a retractable arm. Anna's interior, styled by Martha Fay Coolidge of Round Pound, Maine, will be finished in raised and fielded panels painted white above counter height with varnished mahogany below. Her cabin sole will be wide-plank cedar and her overheads will be exposed varnished beams. Stormy Weather has crew quarters forward, but Anna will use some of that space for her extensive inventory of Doyle racing and cruising sails. S&S also moved the galley aft to make it more conducive to socializing and more convenient to the cockpit. She will accommodate four people with additional pilot and transom berths, both port and starboard, for a total of eight. Since she generally will be crewed by a couple, sail handling, maneuvering, and anchoring systems have been designed for simplicity, reliability and ease of use. As was the case with Stormy Weather, she will bypass some modern amenities such as air conditioning and generator, but she will be equipped with and engine-driven watermaker and a fully integrated Raymarine electronics package. Construction on Anna commenced in July 2006 at Brooklin Boat Yard. Her owner plans to cruise her extensively and compete on the classic-yacht circuit in the U.S. and abroad in the Spirit of Tradition class. SPECIFICATIONS—S&S Design No. 2721 / SY ANNA LOA 56'0" (17.07 m) Length at Design Waterline 41'4" (12.60 m) Displacement (lightship) 40,200 lb (18,234 kg) Beam 13'0" (3.97 m) Draft 8'3" (2.51 m) Ballast 16,900 lb (7,666 kg) Fuel capacity 100 gal. (380 l) Water capacity 120 gal. (460 l) Gray Water 20 gal. (76 l) Black Water 20 gal. (76 l)
Anna Photo Gallery