Portland company awarded $8 million Navy Contract
Portland company awarded $8 million Navy Contract
Thursday, August 8th 2019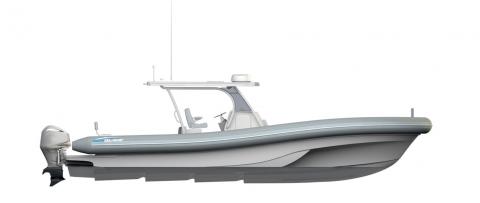 Navatek LLC, a company with offices in Maine, Rhode Island, Washington D.C., and Hawaii, has been awarded an $8 million contract for research on an advanced planing hull intended to improve the safety and performance of high-speed Navy boats.
The three-year contract from the U.S. Navy Office of Naval Research, entitled "Advanced Planing Hull Research," focuses on pursuing new science and technology for safer hulls and hybrid-electric propulsion systems for fast boats.
Front Street Shipyard in Belfast, Maine, which is working with Navatek  on the project, already is building a 36-foot planing craft for the project, Maggie Craig, Navatek's deputy director of Portland operations said this week. The prototype (shown here) features a stepped hull and pockets of air.
Front Street will build the Navatek prototypes and collaborate on testing at-sea. The science and technology advancements from this research will benefit all the Navy's small craft programs, Craig said. The goal is to reduce injuries by those using the boats, as well as explore more efficient manufacturing processes and materials. "So we can make these more complex hulls in a more efficient and affordable way going forward," she explained. The project also will include exploring new software such as artificial intelligence that might mimic experienced boat operators, and lead to new ways to drive small craft, said Dave Kring Navatek's VP of Science and Technology. "High-speed craft rely on highly-experienced human operators for the best performance. Even then, passengers often experience severe, injury-inducing rides that cannot be countered through classical control methods," he said. "Advanced techniques such as machine learning will lead to new control schemes that will assist human operators and enable effective, unmanned operation of small boats  Beyond reduction of injuries, this work will also support increased confidence in advanced composite hulls for improved performance and reduction in noise. Along with new hybrid-electric propulsion development, this will enable special operators to perform critical new missions."
The University of Maine in Orono, also a partner, will research new materials for hulls and build molds on its massive new 3D printer.
The grant was announced this week by U.S., Sen. Susan Collins.
Opportunities to collaborate with Maine maritime companies such as Front Street Shipyard were vital in supporting Navatek's Portland office, which opened in 2018, according to Martin Kao, CEO of Navatek LLC.  "Our company is committed the State of Maine, and thanks to Senator Collins' support, we have been able to partner with the University of Maine and the State's boat building ecosystem to address the Navy's new challenges and needs," he said in a statement.
Based in Honolulu, Hawaii with offices in Portland, Maine; Orono, Maine; South Kingston, Rhode Island; and Washington DC., Navatek was founded in 1979, focusing on research in hydrodynamics and the advanced ship design. The company now employs 22 people in Maine and expects to add as many as 30 more jobs in the next year, Craig said.