Lyman Morse buys Wayfarer
Lyman Morse buys Wayfarer
Thursday, July 2nd 2015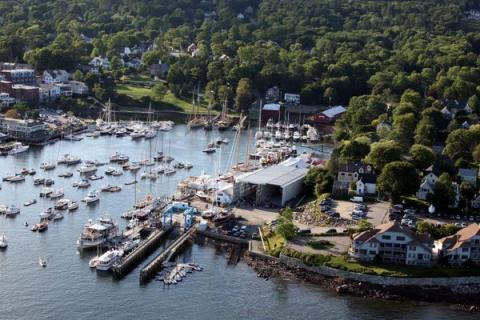 The Thomaston, Maine-based boat builder Lyman-Morse has bought the Wayfarer Marine Corp. in Camden, Maine, now renamed Lyman-Morse at Wayfarer Marine.
Lyman Morse President Drew Lyman announced the news on Wednesday, July 1.
"We are very excited about joining the two crews to create a most talented group of marine experts," he said. "Wayfarer's customers will benefit in a big way through economies of scale and access to Lyman-Morse's depth of expertise and resources including our boatbuilding pedigree, Lyman-Morse Fabrication, our CNC machining department, and Lyman-Morse Technologies."
In addition, the company looks forward to having a presence on the waterfront in Camden, a place that for more than a century has been a destination harbor in the yachting world.
"We love the synergy of tying the two businesses together to create an even stronger world-class destination yard," Lyman said.
Lyman-Morse was started by Cabot and Heidi Lyman in 1978 and is now captained by their son Drew Lyman.
Located on the site of the historic 100-year-old Morse Boatbuilding Yard, Lyman-Morse has built over 100 of the finest yachts produced in the United States, and has established itself as a quality service yard specializing in refits. The yard's new construction projects have involved all types of materials including aluminum, wood, and composite construction.
Recently Lyman-Morse has expanded into areas outside the marine world. Its state-of-the-art composites shop has been working with the airline industry, Department of Defense, and start up projects such as solar power re-generating units, and large scale solar arrays. Lyman-Morse Technologies , the research, development and prototyping division of the company, works with architects, interior designers, business and home owners and government agencies. In addition, Lyman Morse Fabrication, led by Jonathan Egan, has increased its presence in New England with its custom design, engineering and metal fabrication. With a variety of specialized skills, LMF has landed significant projects for SUNY in New York, processing plant machinery, oceanographic research equipment, and a variety of other projects for respected New England companies.
The Lyman family is also completing a 26-room boutique hotel in Rockland, Maine.
Wayfarer Marine and Camden have been the center of yachting in the Northeast for more than 100 years. With 37 slips, and 846 ft. of dockage, Wayfarer sits on 9+ acres on the finest commercial marine land and harbor in New England, if not the East Coast. Wayfarer's launch service provides transport to and from its 47 moorings. The service yard is equipped with 110-ton Travelift, 80-ton Brownell trailer and 9 climate controlled work and paint bays.
Camden and Wayfarer also have a long history of boatbuilding dating back to 1796. The company employed 1,800 people during WWII building minesweepers, rescue/salvage tugs, and troop transports. By the 1970s, Wayfarer had become a top service yard for yachters all over the world.
For more information about Lyman-Morse go to: www. lymanmorse.com .